GEAR TESTS: Canon EOS R5 Mirrorless Underwater Camera Review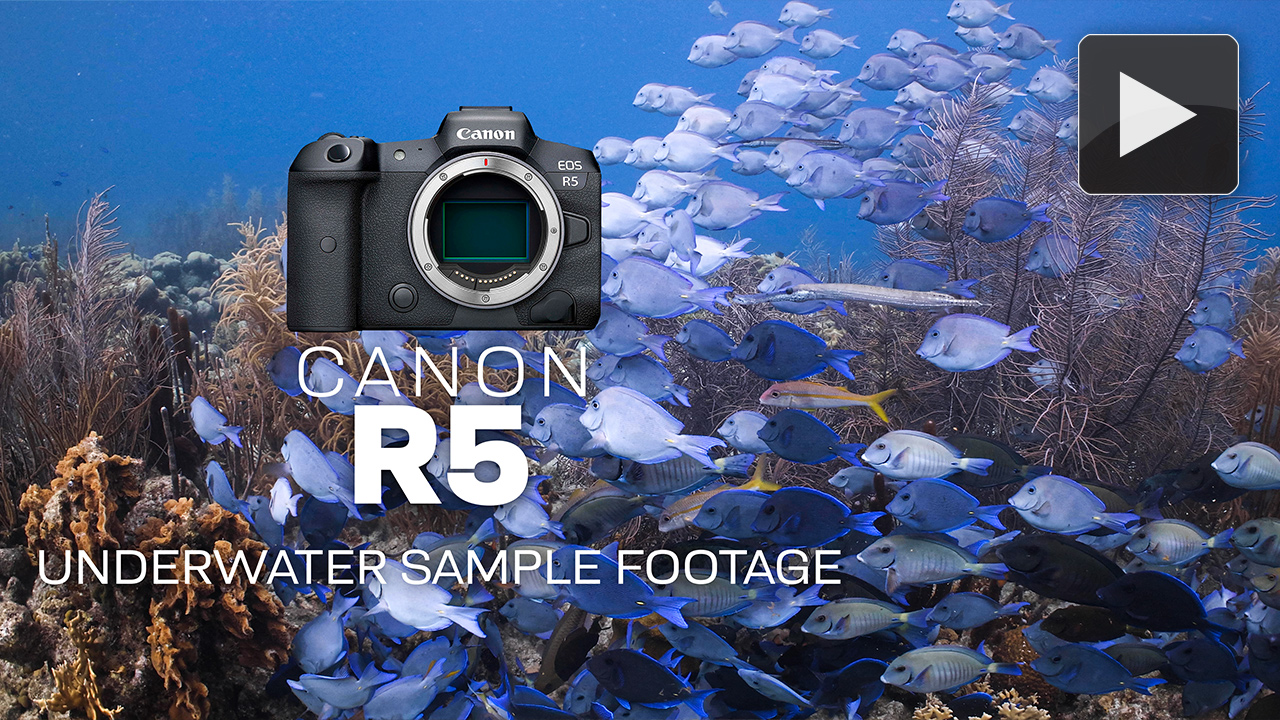 JOEL PENNER
Chief Technology Guru





I've been using the Canon R5 camera on numerous expeditions off and on since December 2020. As a video shooter, this mirrorless camera has some very impressive videocentric specs: 4K 120FPS, 8K 30, 4K 60 - all in a high quality codec that's very forgiving with Lumetri Color in Premiere Pro. I've thoroughly enjoyed shooting fast moving subjects in 4K 120FPS and the benefits from enhanced detail and the ability to reframe (crop in post) from 8K 30FPS footage. This camera also has a super juicy (very large) RAW file for Photography! During my use of the Canon R5 on each expedition, I benefitted from the high quality video files and the coveted Canon white balance capabilities.
That said, this camera has had from the start one very challenging issue: It overheats! The camera gives you a count down, which is helpful… but keeps you on edge as it counts down. (Think Mission Impossible bomb diffusing scenarios) You'll get about 30 minutes of 4K 60FPS recording during the first morning dive. On entry to the second dive, depending how much you shot during the first dive, you'll start out with a countdown that could be 20 minutes. This is aggressively accelerated once you switch into 4K 120FPS or 8K 30fps. Once you've recorded 5 minutes or more of these higher intensity settings, the camera will struggle more to recover for the next dive. I normally see at countdown of around 15 minutes for the second dive shooting 4K 60FPS if I've dabbled with 4K 120FPS on the first dive. Okay… enough tech talk…
Why do I still love to shoot with this camera? The quality of the footage is stunning. 4K 120FPS is beautiful, and with conserving the heating issue, you can get through your morning dives without running out of recording. But you MUST conserve. This is a deal breaker if you're on assignment, and the whale shark passes by with a pod of dolphins and mantas, and if you attempt to record your whole memory card you're going to overheat this baby. Fortunately, for most Canon R5 shooters, they're interested in photography and dabble in video. If that sounds like you, then the Canon R5 is perfect for you! Fortunately, for video shooters, Canon has released the Canon R5C, which solved the overheating situation by thermally coupling the sensor to the cooling system. Read more about the Canon R5C and view test footage I was able to capture using this new cinema camera setup.
During the two-week Digital Shootout event, I shot the Canon R5 inside the beautifully ergonomic and robust Nauticam NA-R5 Housing. Additionally, I used the Keldan 8X 15,000 lumen video lights to fill in and add pop to my footage. This year, I added the Keldan 12B Cyan Filters. This worked very well in most conditions and gives the footage a more natural look where it's harder to distinguish where the lights were hitting and where they weren't. To use the filters, you'll achieve the best results if the sun is out.  With the lights off, take a custom white balance at the depth you're shooting, and then turn the lights back on. That's it! Enjoy the underwater footage above, all shot with this setup.


Hergen Spalink
Nauticam Ambassador




TODD WINNER
Nauticam Ambassador




The Canon R5 mirrorless full-frame camera features both the ability to shoot 8K 30p RAW video or capture 45MP still images making it an ideal hybrid underwater imaging platform. The new R-mount Canon RF 100mm Macro lens gives an extra 40% maximum magnification over the EF version with a topo-end reproduction ratio of 1.4:1. Paired with the SMC-1 and SMC-2 wet lenses, the R5 is a supermacro demon. For wide angle, the R5's 45 megapixels come to life behind the WACP-1 and WACP-2 wide-angle optics with their 130º/140º field-of-view and full zoom through. Capturing both ultra-wide and more close-up shots, even at larger apertures such as F6.3, helps create diversity in your portfolio. The R5 is also a capable video shooter featuring in-body stabilization to help smooth out handheld footage.
See images below. Shot with the Nauticam NA-R5 underwater housing.


READ MORE GEAR TESTS: