GEAR TESTS: OLYMPUS TOUGH TG-5


Video Overview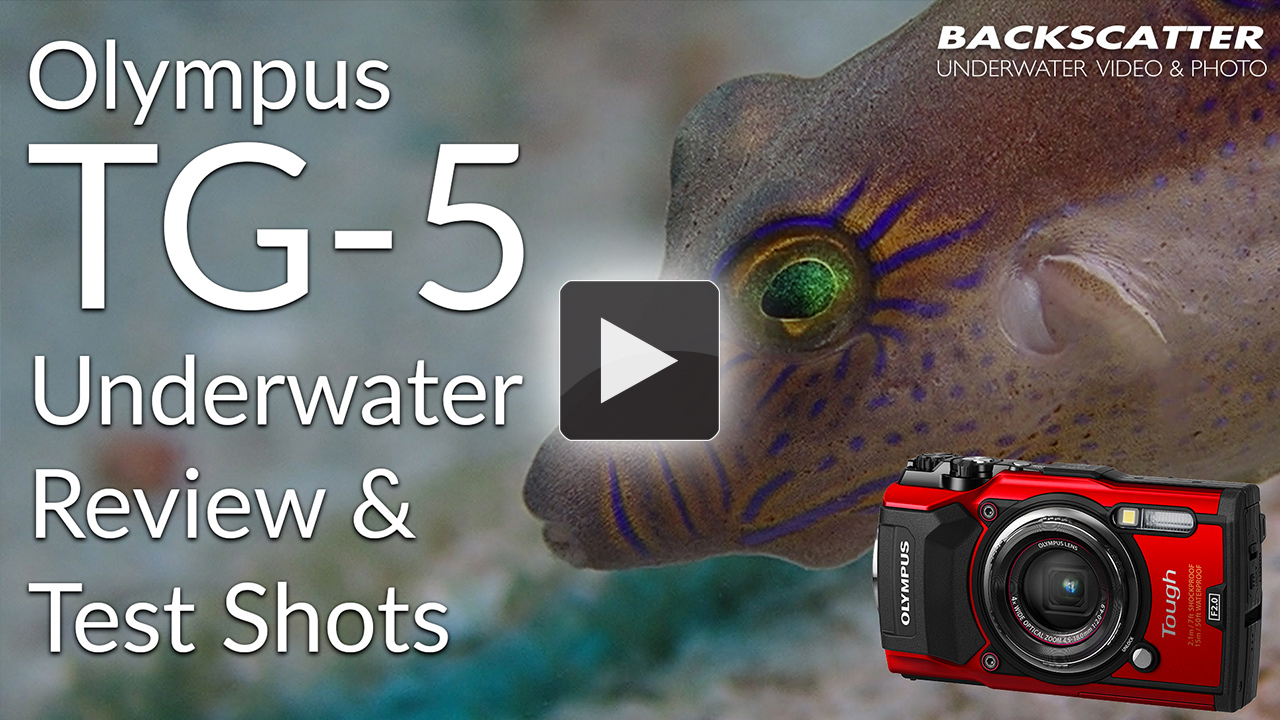 Jim Decker
CEO: Backscatter Underwater Video & Photo





The Olympus TG-5 made its debut at the Shootout last year and we've been seeing some great results from this macro powerhouse. I made it a mission this year to shoot more content from the TG-5 at this year's Shootout.
The main cool feature of the TG-5 is the ability to shoot in microscope mode. This goes way beyond the normal "macro" of most compact digital cameras and delivers stunning close up macro shots, all without the need of an additional external wet macro lens. The focus is super-fast and accurate, even on the tiniest critters on the reef.
I also shot a bit of video. The TG-5 can shoot 4K 30p video or in 1080 HD up to 120p. Executing an ambient light white balance looks pretty darn good right out of the box, with little color correction needed in post.
I was also on a mission to shoot some wide-angle photos with the new Backscatter M52 Wide Lens. This lens was developed specifically with the TG-5 in mind. It has a max angle of coverage of 120 degrees with sharp corners and no vignetting when the zoom on the camera is at full wide. The camera can be partially zoomed to get a tighter shot without having to remove the lens.
The image quality improvement over the previous generations of TG cameras is a major leap forward. Images have much more detail and are sharper. Low light performance is improved as well.
Overall, the TG-5 is the best macro camera ever made and can do some pretty decent wide angle as well by adding a wide-angle lens. With its versatile video capability, the TG-5 is a great all-around camera and one that accompanies me on every trip I've made in the last year.


Carlos Quilichini
Olympus Team Member


The Stylus Tough TG-5 is the most popular compact camera for underwater and is the ultimate outdoor camera. It's Tough because it's Waterproof (as it is no housing to 50ft), Shockproof (7ft drop), Crushproof (to 220lbs), Freezeproof (to 14°f) and Dustproof. This Tough camera is ready for any adventure; whether diving, skiing, hiking, rock climbing or just having fun with the family. The TG-5 is built to survive the trip. Capture everything that Mother Nature offers and Ultra HD 4K video including high-speed video (Full HD at 120fps). Plus WiFi, GPS, Compass, Temperature sensor, Manometer for altitude/depth, Action Track sensor and 2 apps (Olympus Image Share app to control the camera from phone or tablet, transfer images and edit. Olympus Image Track app links your Action Data to your video and photos for a one of a kind viewing experience).You name it, the TG-5 has it!

Packed with tons of useful features like a F2.0 lens will let you capture crisp, clear shots underwater, at dusk or anywhere light is scarce. Don't think because is a 12MP sensor the image quality is lower! TG-5 has the same True Pic VIII Image Processor used on our professional model, the OM-D E-M1MKII.

My experience with TG5 is that I can have the best of both worlds macro and wide-angle. Diving on a wreck? Wide-angle might be the choice, but sometimes we find all these other little critters at the wreck that are a great opportunity to capture with macro. But one of the most popular features on the TG-5 is a mode called microscope that it will allow you get super close and tight to your subject.

This camera fits all types of divers from beginners to advanced. Easy, simple to use and super compact, it will perfectly fit in small tight places where the big housings can't go. The buzz is out there, try it and you will be amazed!


DYLAN SILVER
Backscatter Team Member





With so many cameras available at the Digital Shootout, it's kind of funny to pick the smallest, least expensive to use. But I guess that's a testament to how awesome the Olympus TG-5 system is. By now, a lot of people are familiar with the excellent microscope mode and outstanding macro ability of this camera. This feature has definitely made the TG-5 one of the most popular ever for underwater use. This year at the Digital Shootout, I wanted to try something a little different. I decided to explore some of the TG-5's other modes.

I shot a lot of video on this trip, and I had quite a few opportunities to experiment with the video features of the Olympus TG-5. I was pleasantly surprised at how well the camera performed. With a Joby tripod for stabilization and two Light & Motion Sola video lights, this made a compact rig that fit in a lot of places a full-sized video camera wouldn't. Though I was limited to 1080p in microscope mode, I was able to grab 4K footage of larger animals like moray eels using the video mode. The color using video lights and auto-white balance was pretty good and the camera had no trouble manually white balancing down to 50 feet.

For big scenes like wrecks, the TG-5 pairs excellently with the new Backscatter M52 Wide Angle lens. This brings up one of the myths about this camera that we want to dispel. For shooting wide-angle subjects, even on a small camera, you still need a lot of light. Most wide-angle subjects, especially wrecks like the 140-foot Prince Albert in front of CoCo View Resort, require the use of high-powered strobes like the Sea & Sea YS-D2. As we like to say around Backscatter, "the scene doesn't care what camera you have." In other words, your lighting needs to fit the scene, regardless of what camera you're shooting with. With a pair of good strobes and a wide-angle lens, the TG-5 proved it's not only a macro machine, but also a capable and relatively compact wide-angle shooter.




ROBIN DODD
Producer


The Olympus TG-5 is probably the most interesting compact camera in the world right now. It's already the most popular camera for underwater photography, and for good reason. Its Microscope Mode is the most insanely powerful macro shooting mode you'll find on any camera. There is literally no subject too small for it to shoot, and no minimum focus distance means you can get as tight with your subject as it will let you. The camera is also natively waterproof, which is great for peace of mind on a trip where your camera is sure to be introduced to the elements (and not always how you intended it!). Whether shooting video or stills, I found the TG-5 to be one of the most simple AND effective systems available today. With the quick addition of the Backscatter M52 Wide Angle Lens, you can go from shooting macro to wide angle with just a few turns of the threads. While you can occasionally feel the frustration over a lack of shutter speed control, it's hardly a big enough drawback to overshadow the outstanding native abilities of this camera. Overall the TG-5 is a fantastic shooter and is equally at home in the hands of a first-time underwater photographer, or a seasoned pro that wants a simple yet powerful image-making tool.


Jeffrey Honda
Light and Motion Ambassador


Currently my family has a TG-4 that my young boys between 6 and 8 years old use to take photos and video. It's pretty dang kid-proof and easy for my kids to get great shots. So when I was asked to take out the Olympus Tough TG-5 for a fluorescent night dive, I thought, "sure, why not take a break from my 30-35lbs professional DSLR and give this compact point and shoot a try." Holy smokes, was I surprised at what the results were!

The TG-5 in an Olympus housing probably weighed less than the two Sola Nightsea lights I was shooting with. The rig in total probably only weighed 5 lbs. So right off the bat, I was a happy getting out to the dive site and swimming was so much easier than with my pro rig. With a little bit of instruction, I was on my way into the dark night. While swimming out to the dive site I thought, "I'll be lucky if this camera catches any fluorescences," due to the low amount of light in fluorescence. Boy was I wrong!

Right away, I was taking some beautiful images of fluorescing green corals. I was completely surprised. Now, the only difficult part I had issues with was knowing where and what the buttons were in the dark and that was just due to the unfamiliarity of the camera housing. I stumbled through the controls and quickly figured out how to change my settings. While stumbling I found the video 4k mode and as a videographer, I quickly changed to it.

Holy @#$%!!! The TG-5 was capturing amazing 4k footage, similar to what my pro rig was capturing. The biggest difference between the two was that the TG-5 had more versatility than my Professional DSLR. I could zoom in or zoom out and capture great quality footage of a wide range of subjects. I was blown away by the clarity of the footage too. Needless to say, the following day I asked to take it out again and my request was granted.

This time, I made sure to study the controls a little more before going out into the dark and I also took a tripod. Again, I was completely blown away by the footage this camera produces. I was able to cover more area with the TG-5 and I was also able to shoot macro or wide angle. It goes without saying that my body was also happy for not having to carry such a heavy Pro DSLR around in the rough currents.
I would defiantly recommend to people who want to get into fluorescence diving to grab the TG-5, 1 or 2 Sola Nightsea lights, a camera tray, and a Joby tripod. This set up will ensure that you get great quality shots at an irresistible price. The talk about the TG-5 is not just hype and I will be upgrading from my TG-4 to the TG-5 most definitely.


READ MORE GEAR TESTS: