GEAR TESTS: Sola NightSea

Jeffrey Honda


NIGHTSEA On-Site Staff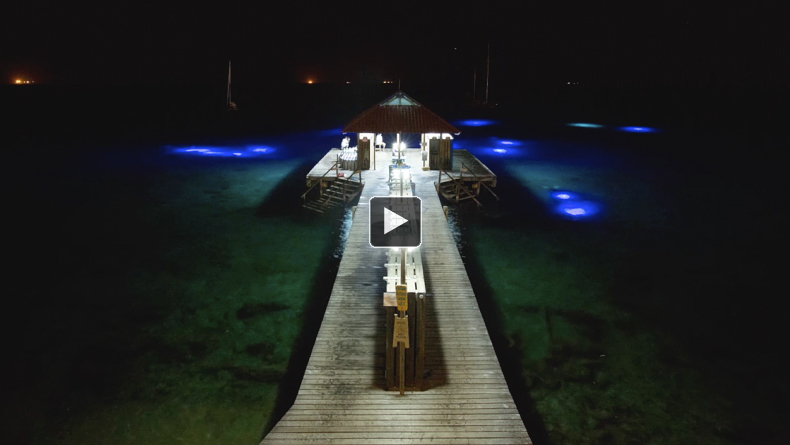 For many of years now, fluorescence divers have needed more light to illuminate their dives and their critters so that they can see what they are shooting. This light produced by a collaborative effort by the "Godfather" of fluorescence, Dr. Charles Mazel, owner of Nightsea LLC, and Light & Motion has been a solution well received by the fluorescence dive community.

Recreation/Photography
A common problem with fluorescence diving is that you don't have enough light for your camera to focus on the subject, let alone finding a subject to shoot in the first place. The Sola Nightsea is an intense grouping of LEDs, which makes finding a fluorescing subject to shoot easier and allows critical focus to be obtainable. Being that it is the most intense fluorescent exciter on the market, its intensity allowed my camera the ability to easily auto focus on a subject. That in turn allowed me to catch more peak action moments, or to refocus much quicker without missing the shot.

Video
With 2 or even 1 Sola Nightsea lights, good video becomes a reality for every level of shooter, not just the pros. The Sola Nightsea gave me a wide range of choices from variable intensity to spot or flood beams allowing much more creative control from one single light source. Included is a phosphor filter that goes over the front of the light turning it from a blue light source to a white light source. This is great for navigation and I personally used it to get comparison shots of a subject under different lighting conditions.

As a DSLR videographer, the Sola Nightsea has brought many key features to the table. Its intensity, burn time and size ratio is unmatched, as they are conveniently small and last longer than my dives. This intensity allowed me to have greater creative control over my footage. I brought down my ISO settings significantly when compared to other lights I previously used, which has brought down noise levels in my footage. It allowed me greater depth of field in my footage. F/8 was almost unobtainable with a reasonable ISO with previous lights, but reaching f/8 on up is not a problem with the Sola Nightsea. If you are a photographer who likes to use constant lighting while you shoot or even a videographer who likes to fire off a couple of stills every now and then, like myself, the Sola Nightsea allowed me the choice to do both.

I was amazed to see some of the images of the first time shooters during this Shootout, and I was not shocked to see how many shots placed in the finals. Philip Seys winning "The Jim Watt/Best in Show" award with his fluorescing seahorse is an amazing fluorescence shot that will, I'm sure, inspire many more followers. It was exciting to see fluorescence divers have so much success this Shootout. The Sola Nightsea has made a huge leap forward and set a new bar in fluorescence.


Charles Mazel, PhD


Founder/President NIGHTSEA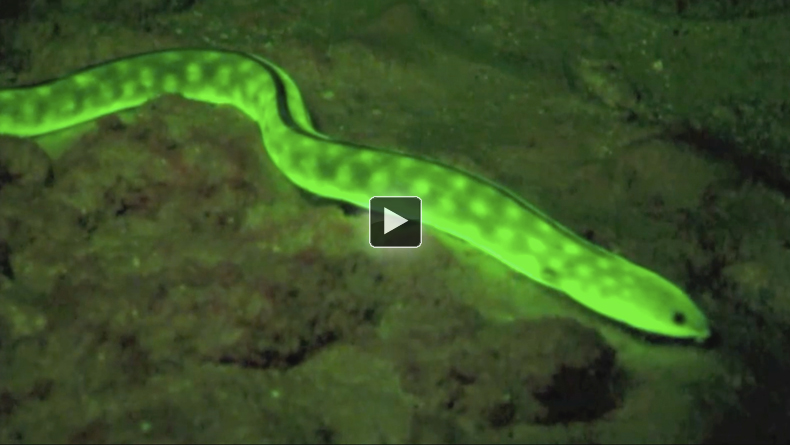 The Sola NIGHTSEA is a game-changer of a light for underwater fluorescence work. NIGHTSEA and Light & Motion collaborated to create this specialized version of their popular Sola 1200 video light. Rather than adding an external filter to a white light, which just throws away a lot of energy, the Sola NIGHTSEA is built from the ground up for fluorescence with the right color blue LEDs supplemented by NIGHTSEA's proprietary interference filter to trim the output for best performance. By using blue LEDs all of the energy goes where it is need to stimulate bright fluorescence in a variety of marine organisms.

The Sola NIGHTSEA has both spot and flood beams. I like to use the spot mode for searching at a distance – that tight beam really carries – and switch to flood for wide-area search at close range, and as a focus and video light. With three intensity levels in each mode you can easily adjust for conditions.

One of the coolest things of all is that the Sola NIGHTSEA magically transforms from a blue light into a white light for keeping yourself oriented in the dark, reading your gauges, and figuring out just what it is that is fluorescing (that's not always obvious!). The snap-on cap is made from 'remote phosphor' material that absorbs blue and converts it to the broad range of wavelengths necessary to make white.

The Sola NIGHTSEA was really popular with the Shootout participants. Everyone came back from their dives really enthused about the new spectral world that they had just visited. And they came back with great pictures. The Sola made it easy to find subjects and they then used it as a focus light for their still shots using strobes outfitted with NIGHTSEA excitation filters, or as the primary light for fluorescence video. The Shootout divers are already skilled photographers and the Light & Motion and NIGHTSEA equipment gave them the tools they needed to bring back great fluorescence images.

I spent a lot of time in the water myself taking both still and video using a single Sola NIGHTSEA in conjunction with a Canon G10 camera in a compact housing. For stills, I was getting good exposures at ISO 400 – 800, 1/30 – 1/20 sec, f3.5 – 5.6, using a small tripod for stability. Now that the performance of digital cameras at high ISO's has vastly improved the Sola NIGHTSEA can be used in place of a strobe for still photography in many cases. I was in the water for up to 2 hours at a time and by using the lower intensity settings whenever I didn't need full power the batteries lasted for the full dive.

The Sola NIGHTSEA is the light I've always wanted for underwater fluorescence work and I had a lot of fun diving it. I have made some one-off high power prototypes for my own use in the past, but by building on their established Sola lighting technology Light & Motion has created a versatile light that will make underwater fluorescence more accessible and enjoyable for all. I predict we'll be seeing a lot more fluorescence work in the future, especially from the new enthusiasts from the Digital Shootout.


READ MORE GEAR TESTS: