GEAR TESTS: Canon 1 DC

Joel Penner


Chief Technical Guru/Founder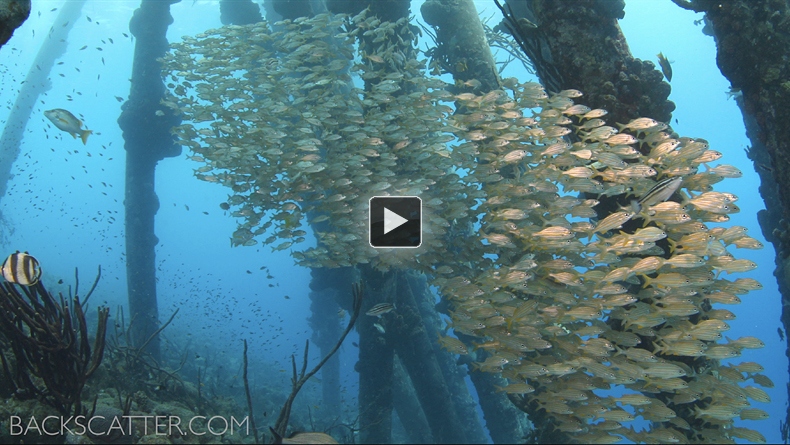 4K Video Capture
Two cool things about this camera are:
1) Its portable size compared to almost every other professional 4K camera on the market.
2) The very close to identical acquisition workflow of footage that I was already familiar with in the Canon 5D MK III.

White Balance Differences
I've been shooting DSLR video since the Canon 5D MK II. On both the Mark II and Mark III cameras, the white balance was a simple procedure. You'd take a shot of a white/grey card (or sand, or your hand) and go to custom white balance and select the image you've just taken. Hit apply and you're all done! However, with the Canon 1DC, there was an unexpected amount of new options when it comes to custom white balance. The camera has 5 white balance storage banks! At first, this really threw me off. I would apply a white balance to slot 3, but my camera was set to use the white balance from slot 1. Now that I've gotten used to the 5 slots and which one is currently selected for a white balance, I'm leveraging this new ability to hop from any 5 previously stored white balances.



This trip was the first time I'd used my new White Balance / Color Reference Card made by DSC Labs. I was a little skeptical how well it would work so I also brought my previous gray card solution that I glue onto the back of my dive slate. I have to say that after white balancing off of the white side of this card all week, I couldn't be happier and it's worth every penny. My only complaint is that they drilled the hole for a "righty", so I have to hold the card upside down!

Editing Workflow
I tried to do "dailies" with my Canon1DC 4K footage for the nightly slideshows at the Digital Shootout. The most challenging aspect to this was the increased file sizes. Fortunately, Adobe Premiere allowed me to work natively with the 4K resolution files and then export a final Quicktime for playback on the 1080p project for the show. Having these rough edits for each night allowed me to see where my white balance and overall video quality could be improved during the next day of diving.

Equipment Setup
During the whole Digital Shootout I had the Zen 230 Dome connected. The only thing that changed were the addition and subtraction of extension rings based on which lenses I used. The first couple of days, I shot with the Canon 8-15mm L Fisheye Lens straight on the camera without any extension. Then I added the Kenko 1.4 Teleconverter behind the Canon 8-15mm L Fisheye Lens with the 30mm extension ring. On another day diving the Salt Pier, I shot with the Canon 24mm 1.4 L Lens with the 50mm extension ring. Your biggest concern when trying new lens combinations is if you'll be able to focus and if it's going to be sharp underwater around the edges. I'm happy to say that all of these lens combinations I used worked well for my wide angle shooting style and I was very satisfied with the sharpness achieved while using each combination.

A Pro Level Cinema Camera and a Pro Level Stills Camera!
Although my primary reason for getting this camera was to shoot 4K Video, the amazing thing about this camera is that it is also a full Canon 1DX Camera that takes amazing images. On a couple of the days, I shot still images using my video lights. For example the first and second image below was lit with video lights, and I was still able to shoot at 1/100 and f11 and 1/60 at f14 for the second image! I connected a pair of Inon Z-240's to my housing for the split shot of Jennifer.

Final Thoughts
I had the Canon 1DC inside the Nauticam Housing for the Canon 1DC and it worked flawlessly all week! A wonderfully designed and well thought out housing design.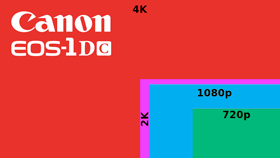 I'm happy to say that the learning curve was very minimal and the barrier to shooting in 4K is much less of a wall than I thought!

One final thought about the web delivery of the above video. It's really difficult to explain how much more resolution is in the actual video. The above video was outputted in 720p resolution for the Web. The original 4K video file of this movie has over 300% resolution at a whopping 4096 pixels by 2160 pixels per frame!
Chris Parsons


Sales Manager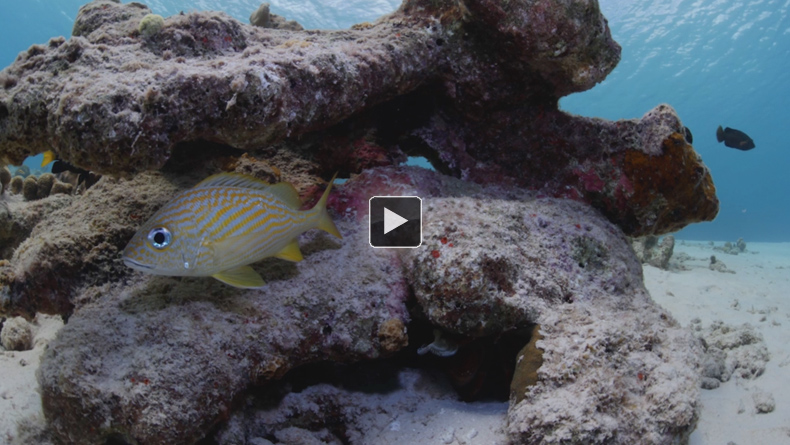 It's not easy to come up with enough superlatives to describe the Canon EOS 1D C camera. You can start with the price... astronomical comes to mind, but this camera is proving that perhaps the price isn't that out of line. I've shot considerably more expensive cameras, both still and video, and have to say that, for what it does, the 1DC outshines them, and given the choice, I'd take the 1DC almost every time. 

Why? This is really two cameras in one. It's a Canon EOS 1D X, the fastest and best sports/action camera ever made, combined with a cinema quality 4K video camera. When I get a chance to shoot 1DC, I tend to mostly shoot video - it is pretty hard to resist the 4K lure - so it is easy to forget about the amazing still frame rate (up to 14 frame per second in super high speed mode, or 12 frames per second shooting RAW+JPEG) or the amazing high ISO performance. 

So, I decided that on one dive at least, I would rig up the the 1DC for shooting macro stills, and 3 of the shots I'm showing here were from that dive. The camera handles beautifully as a still camera, and the Nauticam Housing for the Canon 1DC is excellent. The controls are similar to the Nauticam housing for the Canon 5D Mark III, so my fingers know where to go. If I had to come up with a weakness for this camera+housing, it's only that it is taller than the 5DIII rig and so a bit tougher to get low for subjects that are in the sand. 

The 4th image shown here is a still taken while I was rigged up for shooting video; I happened to see the unique reflection of the boat in the dome of my Keldan Luna 8 video light. 
Jeffrey Honda


NIGHTSEA On-Site Staff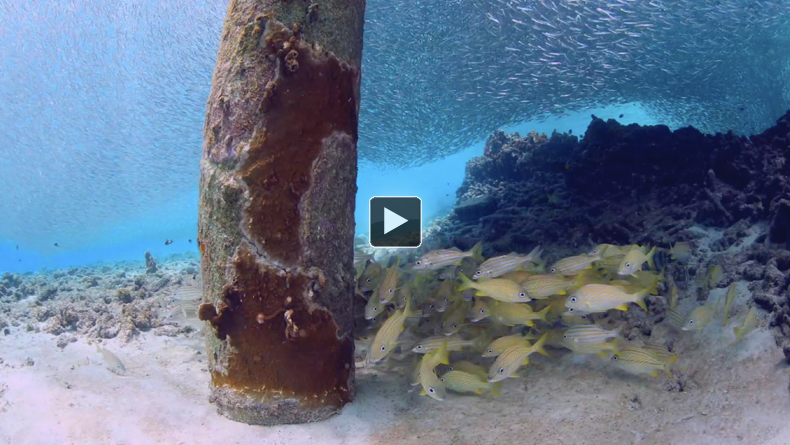 I have been shooting with the Canon 1DX for about 7 months now. I have a Nauticam housing with an Xit 404 tripod plate and tripod legs. This has been an amazing camera set up and it was really easy for me to know what the next step would be when I decided I wanted to shoot 4K resolution.

The 1DC has the same body, same plug-ins, same buttons, same battery, and even the same menu as the 1DX. There are a couple of differences between the cameras, the 1DC has a APS-H sensor and.…4K cinema! Shooting photography with both cameras seems to perform the same to me. Once you decide to brave 4K video, you will notice the difference.

This trip, I shot 4K video pretty much the whole time I was in the water. Shooting 1080HD on the 1DX gave me great video results with the ability to run high ISOs with reduced noise. The 1DC takes that quality up to the next level. ISO noise levels seemed to be even better than the 1DX. The footage is very crisp, clear and clean even when pushing ISOs of 3200-6400.

When shooting wide angle with the 1DC, I used the Canon 8-15mm L series lens, occasionally adding the Kenko 1.4x teleconverter. On one dive, I was lucky enough to use the Zeiss 15mm f/2.8 lens and it was a beautiful combination. This lens allows for the ability for close-focus through infinity. For macro shooting, my go to lens was the 100mm L series lens and the Macro Mate. I also used a Sony external video monitor housed in a Wahoo. All of these combinations worked great for me on this trip.

The 1DC has a great feature that is useful to UW photographers. They put a HDMI + LCD: Mirroring, No Mirroring option in the menu. This is great when running an external monitor and your battery is about to die in the monitor. You can switch to this so that your camera LCD becomes the main screen if it dies. It also allows for your main monitor to be clutter free of information so that you can clearly see what you are shooting.

Another great feature on the 1DC is it allows you to shoot stills, in video mode, using the trigger finger. This may be a plus or minus depending on the individual. Occasionally, I would decide to fire off some stills and it amazes me every time I pull the trigger how fast 12fps feels. And if that's not fast enough for you, there is also a 14fps Super High Speed Mode!

Surrounded by equally passionate shooters, I picked up a couple of tricks that helped. Chris and Sterling showed me how to reset the critical focus/magnifier button to the "Set" button, which is more accessible to your right thumb on the Nauticam housing. Critical focus is even more critical in 4K. Joel had quite the sophisticated "white balance" card, which is probably one of the reasons his films turn out so great. Berkley's "on the fly" method of white balancing on the sand or your hand worked when in a pinch and a white balance card was not available. Diving and shooting the 1DC has changed my expectations for a DSLR forever. Thank you Canon!
READ MORE GEAR TESTS: