GEAR TESTS: Canon 5D Mark III
Berkley White


Owner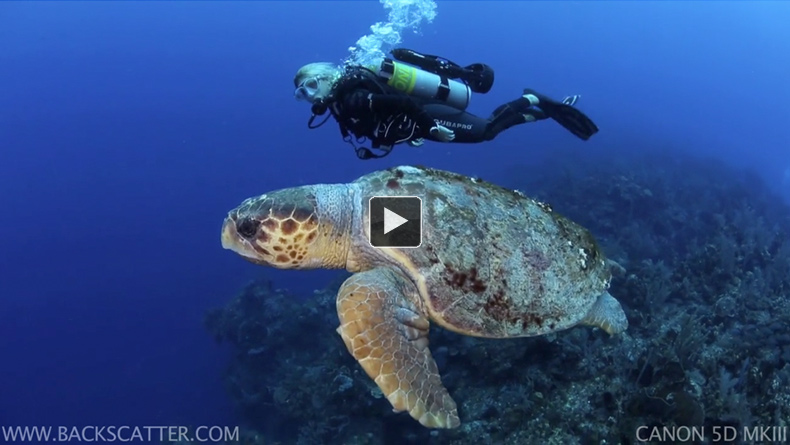 Sterling Zumbrunn


Chief Technical Officer

As much as I enjoyed having the chance to shoot Nikon cameras this week, shooting the Canon 5D Mark III in the Nauticam NA-5DMKIII housing was like coming home. Decent white balance at depth - what a concept! Also a great lens like the Canon EF 8-15mm is a really welcome tool to have in your kit, a zoom range not available on Nikon. On the stills side, I was happy to have my Sea & Sea YS-250s back in action so I could shoot frames in more rapid succession. I did experience the camera locking up several times after shooting a burst, and after further reading discovered that this is an issue with using an SD card in the 5D Mark III. The camera has slots for both Compact Flash and SD, but as soon as you insert an SD card, the overall write speed of the camera drops for both cards, regardless of which one is being written to. A minor quirk in what was overall an awesome experience.
The NA-5DMKIII, like the other Nauticam housings I shot this week, shows a tremendous amount of thought in the placement of controls. The ISO lever took a little getting used to, as it is tucked in behind the shutter on the side of the housing. But once I learned it, I found it incredibly helpful to be able to make changes to the ISO sensitivity when switching between stills and video. The record paddle control also took a little getting used to, but after a day of shooting, I loved it. As with the Nauticam housings for Nikon, the Photo/Video mode toggle, AF-On, Record, ISO, Shutter Speed, and Aperture all worked flawlessly on the NA-5DMKIII and could be operated without looking and without removing hands from the housing. I tried out both the 180 degree and 45 degree enhanced viewfinders, and really found them essential for shooting stills, though the 45 finder blocked the LCD a bit much when shooting video. An external monitor such as the Wahoo quickly solves this problem.
The Canon 5D Mark III itself is a dream of a camera. I had shot it extensively topside for the past few months, but this was my first experience taking it underwater. It's a monumnetal upgrade over the 5D Mark II in so many ways - lightning fast autofocus, improved ISO sensitivity, and a new high quality video codec to name just three. These differences are profound topside, but underwater this camera shines even brighter. Canon has really knocked it out of the park with the 5D Mark III, and it's definitely the camera I will be shooting personally for the next few years.
JIM DECKER


CEO

The Canon 5D Mark III is the next evolution from the Canon 5D Mark II, which started the DSLR video revolution. This week I only shot the Canon 5D Mark III in video mode with the exception of the occasional still in between video clips. Operation of the Canon 5D Mark III is almost identical to the 5D Mark II. Ergonomics are improved with the addition of a dedicated record button and video/photo mode switch like on the Canon 7D. Anyone who has used the 5D Mark II or 7D will feel right at home with the menus and control set.

Major improvements in focus are a godsend. The 5D Mark III is monumentally faster than the 5D Mark II, and will even focus in extreme low light where the 5D Mark II would only hunt.

The video quality is top notch as expected. The new ALL-I video format that compresses each frame individually instead of across multiple frames and allows for much more latitude in color correction in post. The low light performance of the new sensor is amazing. Shooting at ISO 2500 is no problem, even for blue water backgrounds.

I did have a slight problem with white balance. Executing a custom white balance is the same procedure as before, but I noticed the colors were not always consistent from one white balance to the next. However, they were pretty close which allowed me to use the "match color" feature in Final Cut Pro X and everything looked great.

The files straight out out of the Canon 5D Mark III are a little flat, and as such, can appear slightly soft. While talking to Ed Meyers, Pro Tech Rep from Canon on the trip, he mentioned this was intentional in the design so that color grading and sharpening could be done in post with much more latitude than their previous video SLRs. I consider this a benefit, as HDTVs tend to over sharpen and add a lot of contrast to the signal. This led to 7D and 5D Mark II files to look over processed on HDTVs. The Canon 5D Mark III looks less processed and smoother over 7D and 5D Mark II. 

A special thanks to Aquatica for bringing along a prototype of the Aquatica A5D III housing to the shootout. The construction of the prototype was like merging the Aquatica 5D Mark II and the Aquatica 7D housings. Large buttons for set and record were easy to reach without the need to remove your hand from the handle. In the production version they will have an thumb lever for ISO. 

After this trip with the Canon 5D Mark III, it will be my primary rig for stills and video.


All 3 shots below are shot with ambient light only. Please note that if you pop off a still in video mode, it will be in 16:9 format. The 2 turtle shots are shot at ISO 2500 and look pretty clean for being shot that high.



Chris Parsons


Sales Manager

This is the point in my gear notes where I have to disclose a little of my personal bias. When I first started shooting DSLRs underwater, I started with a Nikon D100, but then switched over to the original Canon 5D when it came out. I quickly became a fan of Canon and have been shooting it ever since, moving on to the 7D, dabbled with the 600D a bit, and now to the 5D Mark III. When the 5D Mark III came out, I was pleased that Canon took the best of the 7D design and merged it with the best of the 5D Mark II, upping the ante on focus performance with a blazing fast 61 point autofocus system. Top that with a video system that takes advantage of the best low light, high ISO performance in its class and the result is pretty much everything I want in a camera.
Did I mention the white balance? I almost feel like there is no need to... Canon white balance - it, well, rocks. I did shoot some video with 5D Mark III, and will post that on the Nauticam USA site hopefully soon.
The Nauticam housing for 5D Mark III actually builds upon the success of the housing for Canon 7D, which makes sense give how similar the 5Diii body is to 7D. The familiar port locking system, comfy handles, two stage shutter release, piano keys, and ergonomic design are apparent. The designers, however, didn't stop there... they updated, enlarged and relocated the command dials, added the new style locking latches, and improved the ergonomics that much more.
The toughest thing about demo-ing the 5Diii was that we only had two of them. This system was in huge demand. The two housings we had in Little Cayman were both prototypes, but despite that, they worked flawlessly the whole week. I don't think there was a dive when both of them were not in use.
Please excuse me if I've shown my Canon fan bias here a bit, but I think it is fair to say that if you want the finest underwater rig for shooting stills and video, looks no farther than the Canon 5D Mark III in the NA-5DMKIII housing.

Reef Squid; shot with Canon 5DIII with Canon 8-15mm, prototype Zen DP-100 with removable shade
Tiger Grouper on Bloody Bay Wall, Shot with Canon 5D III, Canon 16-35mm II, Inon Strobes with Warming Filter
Bubbles Above a Swim Through; shot with Canon 5DIII, Canon 8-15mm FE, Prototype Zen DP-100 with removable shade
Nassau Grouper Enjoying a Cleaning on Jackson Bight Wall; shot with Canon 5DIII with Canon 16-35mm

JEAN BRUNEAU


Aquatica Technical Advisor



Two preproduction models of the Aquatica A5D Mk III were rushed over in time for the Digital shootout, needless to say these two housings where taken out at all times by the Backscatter staff and attendees. The main purpose was to evaluate them in a real life environment and gather up data that will make the production version even better. This was done and some valuable input was gathered. An additional lever for better and quicker accessing of the ISO function will be made available on the production version, as well as some internal components being improved for better performance.
This Mk III housing is a direct descendant of the Aquatica A5D Mk II, which was more than likely the most popular housing ever for the Canon 5D Mk II. Many features on the newer housing reflect this legacy. The proven track records, the simplicity of use and rugged reliability of its predecessor decidedly influenced this current design.
Understandably, the Canon 5D Mk III camera is, at the moment, slightly outshined by the limelight of the Nikon D800. While Nikon provided a long awaited and much needed boost to modernize its technically challenged D700 and get back in the fray, Canon opted for a progressive improvement approach of its earlier 5D Mk II, which arguably, was a trend setter and still is an outstanding performer.
It is safe to predict, with the level of performance that the Canon5D Mk III provides, that real connoisseurs are not about to jump ship and change brand.
This new A5D Mk III workhorse from Aquatica is within days of shipping out to the public.
Aqua View 45
The recent offerings of digital cameras has attained a level of such high quality, that much of the newer arrivals on the market do not justify running to your favorite shop to trade in your trusty camera and housing for the latest model. In a way, we are enjoying a most welcome break from the early days of digital cameras. There was a time when cameras would double their pixel count in a matter of months, where obsolete was the norm and impatience was paid for dearly. So where does that leave us? Well for one, we have more time to devote to our present equipment, time to improve on its peripheral accessories. This partly explains the popularity of these accessory view finders. While they do not alter the images, getting a full view of your viewfinder from a comfortable angle has many benefits. I always say to people, "You don't need one until you try one, and then you can't live without one!". The Aqua View 45 degree finder was just the right ticket for shooting upward while hugging the majestic wall of Little Cayman. It's the ultimate accessory for dialing in your rig.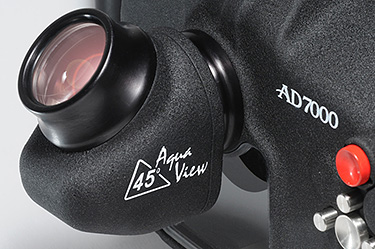 Close-Up Kit We recently introduced a Close-Up Kit which has state of the art optics in +5 & +10 strength using BK-7 coated glass in doublet types element configuration. These babies are sharp, I mean tack sharp for super macro shots. And while Little Cayman is more of a super wide angle territory, I did see some really tight stuff shot by the attendees with these. Watch out as we head out for the 2013 Digital Shootout in the macro kingdom extraordinaire of the island of Bonaire! I have goose bumps just looking forward to it!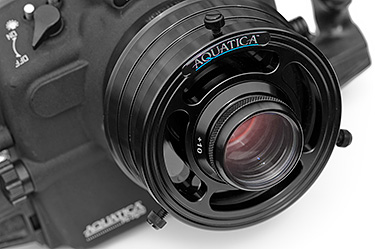 The system mounts on any Aquatica macro port, and a quick mount lets you install and remove the close up lens in seconds. A lens caddy can be mounted on the grip to store it when not in use.
JOEL PENNER


Creative Director / Founder

I was fortunate to be able to shoot my Canon 5D MK III camera underwater while at The Digital Shootout this year! We knew there would be high demand for the Aquatica MK III and Nauticam MK III housings in demo, so Berkley White graciously lent me his Frankenhousing. What's the Frankenhousing? Earlier this year, Berkley was able to shoot one of the first Canon 5D MK III underwater videos using a modified Aquatica housing. There were a few limitations, but for the most part I was able to shoot underwater video like I did with my 5D MK II. The first limitation was that I needed to commit to either photo or video as the lever to switch wasn't accessible. The second limitation was how I had to manually white balance. Because the MK III no longer allows you to use the Set button to record video, instead having to use a start/stop button that the Frankenhousing doesn't have, I had to use a workaround.
1. In the Movie Menu Settings, set the Movie shoot button to start stop.
2. Take a photo of an image you wish to use for a white balance.
3. Set the Custom white balance.
4. In the Movie Menu Settings, set the Movie shoot button back to Shutter/start stop.

This whole process took about 30-45 seconds and would need to be repeated whenever I changed depth substantially.
I shot my video with Gates VL 24 lights and mostly the same settings as what I normally shoot my MK II footage with (1/60, F9-16 based on sunlight and ISO 160, 320 or 640). I was very happy with the quality of the footage. The colors seem more vibrant and the compression in moving action seems to compress cleaner in individual frames due to the new All-I codec. I never had much issue with attaining proper focus due to the fact that the new AF system is super fast and accurate. The Canon white balance is amazing and I've been accustomed to getting a nice white balance if I pay attention to a proper mix of ambient and artificial light with an exposure at 0. However, I did want to mention here that I prefer to white balance to my gray card. I find that it provides a nice amount of warmth while still being accurate. The white side of my card and sand often times seems a little too stark. See the image below for a comparison of video frames shot during a white balance test with the MK III.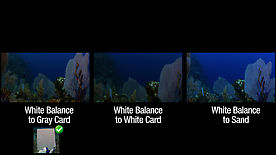 The system worked really well for me and only had troubles on one dive which allowed me to get these results with my backup camera, the GoPro. I love shooting the MK III underwater and look forward to using it on future dives as my primary system.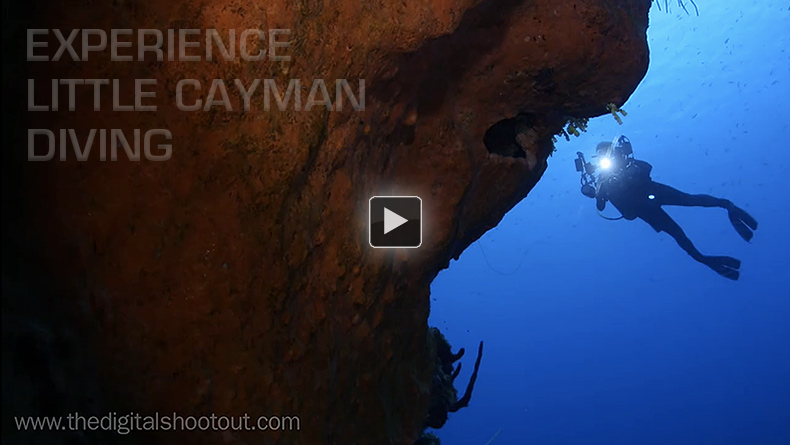 READ MORE GEAR TESTS: