Take it seriously or take it slow, the Digital Shootout is an underwater photography/videography vacation designed to take the shooter in the group to the next level. If you're a new or an intermediate shooter, the Digital Shootout is our fast-track to better underwater imaging. It's also our most popular trip for shooters with an interested, but not die-hard, image-making travel partner. Spend the morning diving together. Afterwards, the partner can hang out at the beach or make afternoon boat dives while you attend the afternoon seminars. Circle back with the group each evening at the slide-show bar party for critiques with the pros.

Most of our repeat guests consider the Shootout events the ultimate working vacation. In six days of seminars and diving, the Digital Shootout team will help dial in your underwater system and shooting techniques. Enter your best images in the final contest to win trips, gear, and more from our great sponsors.

Demo Gear & Tech support: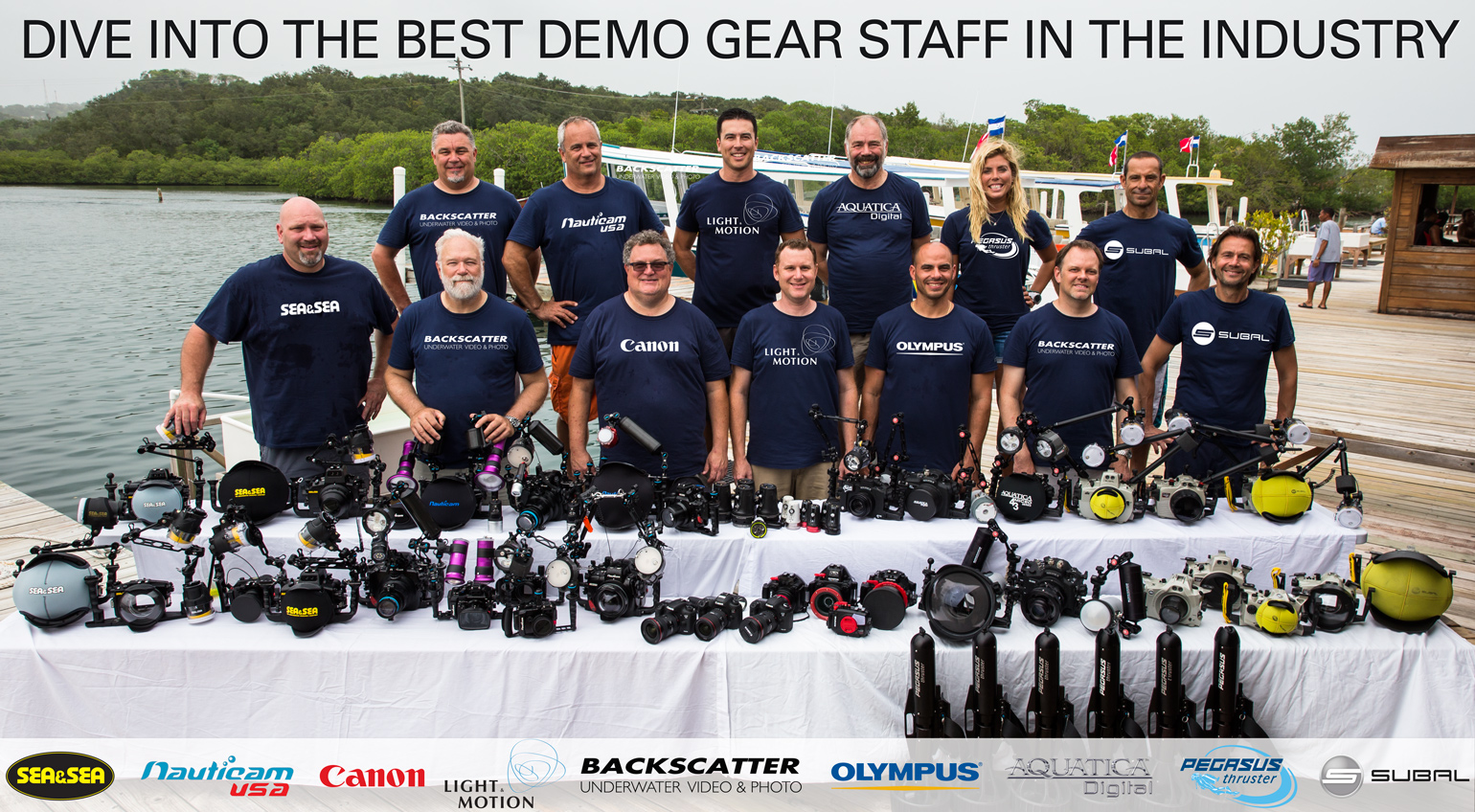 Since 2001, the Digital Shootout has pulled together the most advanced staff of underwater experts for a week of learning the latest in gear and shooting techniques. Our on-site staff includes the top level experts at Backscatter, Aquatica, Nauticam, Olympus, Sea & Sea, Subal, Light & Motion, Canon and more. If you have a new camera, want to become more self-sufficient, or just want to try out cutting edge systems, this week will fast track your skills and will offer one on one time with the best gear experts in the underwater industry. Don't miss this once a year opportunity to learn and explore in a very supportive environment.




NEW GEAR? Come early for
PRE-EVENT sessions!
Did you just purchase a new camera? Trying to make sense of a new laptop and software? New dive gear? We recommend that you come early and book a private session with our experts. We offer private one-on-one sessions prior to the event specially tailored to your needs. Please just let us know what you'd like to work on and we'll tailor a private session with our experts just for you. We'll get you up to speed well before the event starts. Just send us an email and we'll give you the details..





GOT LUGGAGE? NO PROBLEM!
The Digital Shootout is accessible via most major airlines. If you're traveling heavy, you'll incur excess bag fees but there should be no problem with you getting all of your camera and dive gear to the Digital Shootout. No worries...



Standard travel package includes:
• 7 nights accommodations at the Little Cayman Beach Resort
• 6 days of 3 tank boat diving
• Breakfast, lunch, dinner daily
• Airport transfers
• Taxes & service charges
• Plus access to all Shootout seminars, demo gear, contest entry, and help from the pros!


PackageS:

EVENT WEEK - JUNE 18-25, 2016
$2399.00 USD - Pool View
$2699.00 USD - OCEAN VIEW
Price per person, double occupancy


Add ONS:
WARM-UP WEEK - JUNE 11-18, 2016
$2000.00 USD - WARm-UP WEEK

Additional days include 3 tanks
Pool double $285
Pool single $395
Ocean double $300
Ocean single $435




• Single supplement Pool View room $1200
• Airfare to Little Cayman (LYB) $500-$1000 est. (depending on route and carrier)
• Nitrox
• Extra purchases