SHOOTOUT LIFE


A Diving Holiday with Benefits
Now in its 17th year, the Digital Shootout has evolved and grown into the largest event worldwide for burgeoning underwater image-makers wanting to improve their shooting and editing skills. A few years back, Warm-Up Week was added to the offerings. Arrive a week prior to the Shootout Week to get dialed-in, whether it's honing your diving skills, acquainting yourself with a new camera system or just wanting more time away from the office. The vibe of Warm-Up Week is laid-back, casual, it's island-time. Sure, meals and boat diving are scheduled, and there are informal mini seminars during the week covering photo tips and editing tips, but the overall atmosphere is pretty chill. Once Shootout Week arrives, everything gets taken up a notch or even two, as the days are full: breakfast, two boat dives, lunch, seminars, happy hour (an integral component), dinner, nightly slide show and image critiques, socializing with one-on-one or small group help from the pros. And for those ambitious enough, extra dives squeezed in on the house reef, open 24/7.

An added bonus to the Digital Shootout is the demo gear. Manufacturers' reps from major industry players come to the Shootout with bags and bags of underwater imaging gear, all for participants to check out on a boat dive or house reef dive. It's the perfect opportunity to try a different camera, housing or accessory in a hands-on, real-world diving scenario.

By the end of Shootout Week, participants have learned some new techniques for their shooting and editing, feeling confident enough to enter images into our competition. Make no mistake, the Digital Shootout is first and foremost a learning event, but the organizers like to give away cool stuff, like underwater photography gear and trips, and the friendly competition format is a fun way to do so.




A Day-in-the-Life at the Digital Shootout
Underwater, Aerials & Timelapses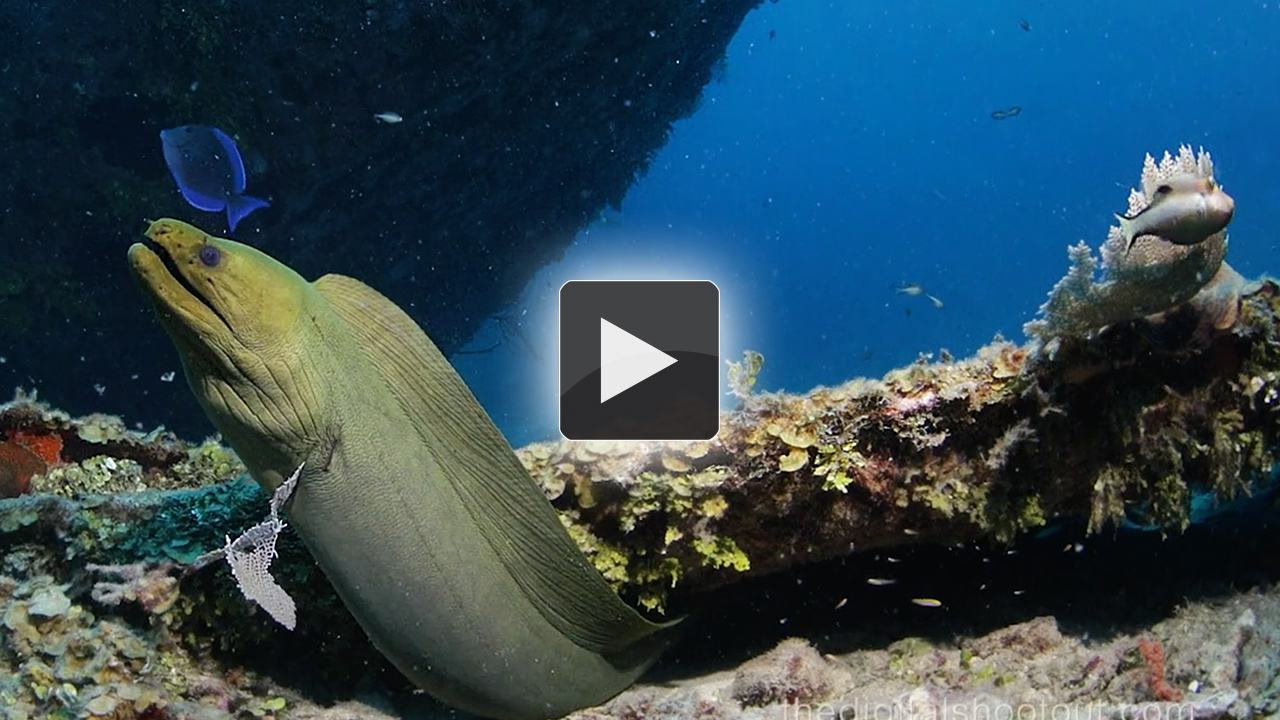 A Day-in-the-Life at the Digital Shootout | © Joel Penner | Canon 1DX MKII Camera, Canon DSLR Cameras, GoPro Fusion 360, GoPro Hero6 Black Cameras, Motorized Kessler Slider




THE DIGITAL SHOOTOUT TOPSIDE PHOTO SLIDESHOW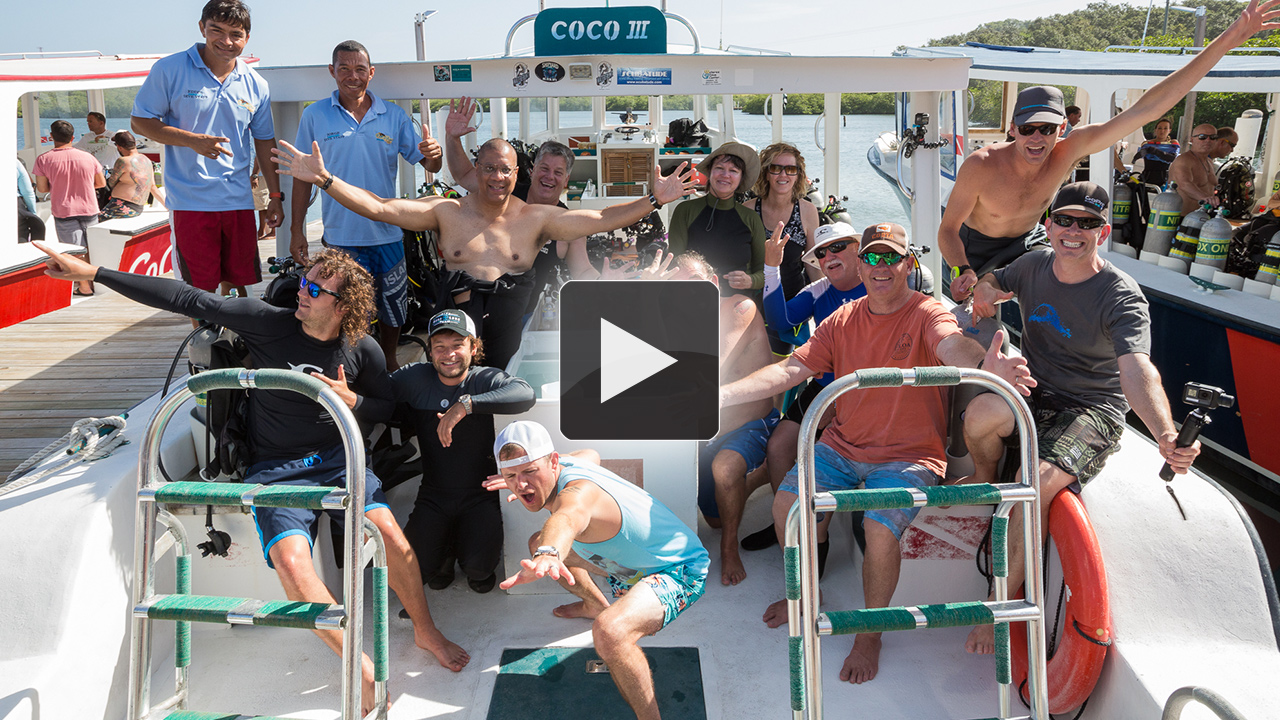 "Topside Slidseshow" | © The Digital Shootout



THE DIGITAL SHOOTOUT UNDERWATER LIFESTYLE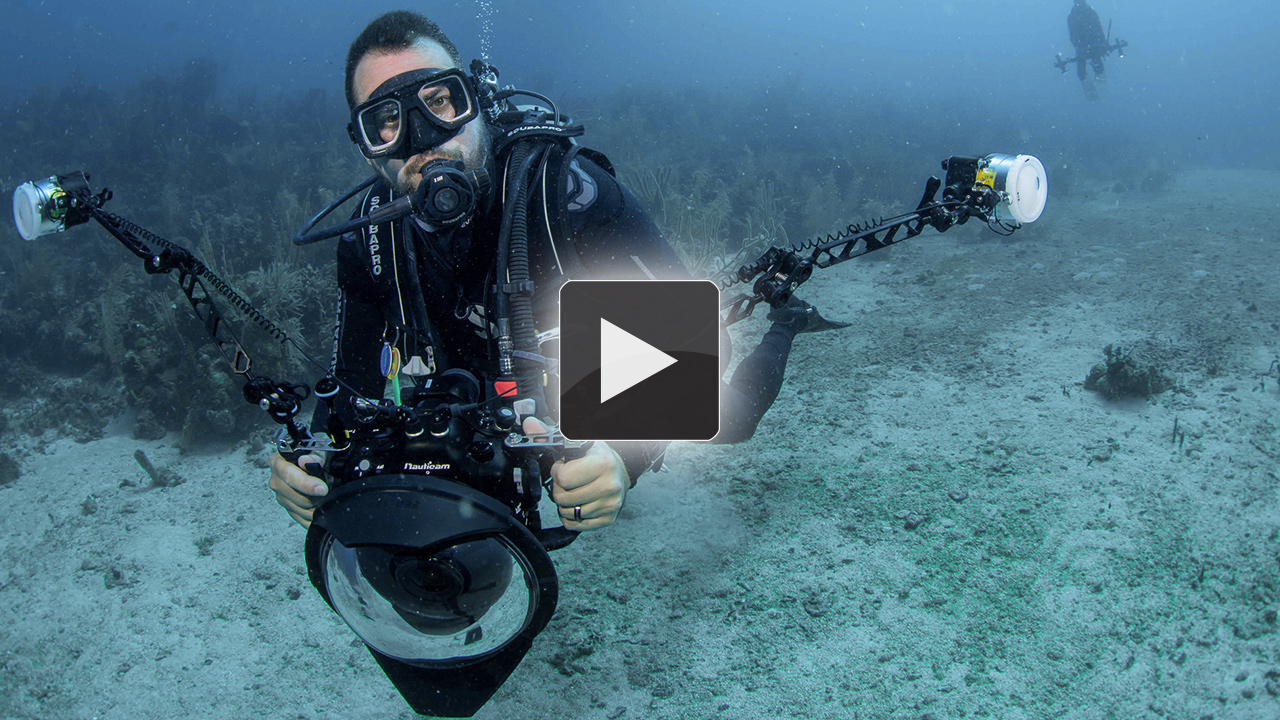 "Underwater Lifestyle" | © The Digital Shootout



THE WORLD'S BEST LEARNING EVENT HAS THE MOST DEMO GEAR
No other underwater imaging event in the world has the amount of demo gear that is showcased each year at the Digital Shootout. Dozens of camera systems on-offer. 4 Pegasus Thrusters, tank-mounted diver propulsion vehicles, rotating through the dive boats for everyone to give a go at zipping down the reef. Night Sea filters and lights to experience your night dive in a whole new way. Strobes and video lights to illuminate your subjects, and accessories, just because it's cool stuff to try! The manufacturer's reps were in over-drive every day, turning systems for the next eager underwater shooter wanting to test-dive a system.

Not only is there demo gear available, but the manufacturers' reps are also available to answer questions and share their expertise with participants during meals, on the boats, in the camera room, before seminars, after seminars, over a beer at the bar. Talking tech and specs is what the manufacturers' reps love to do!
See the latest cameras in action on our gear test page.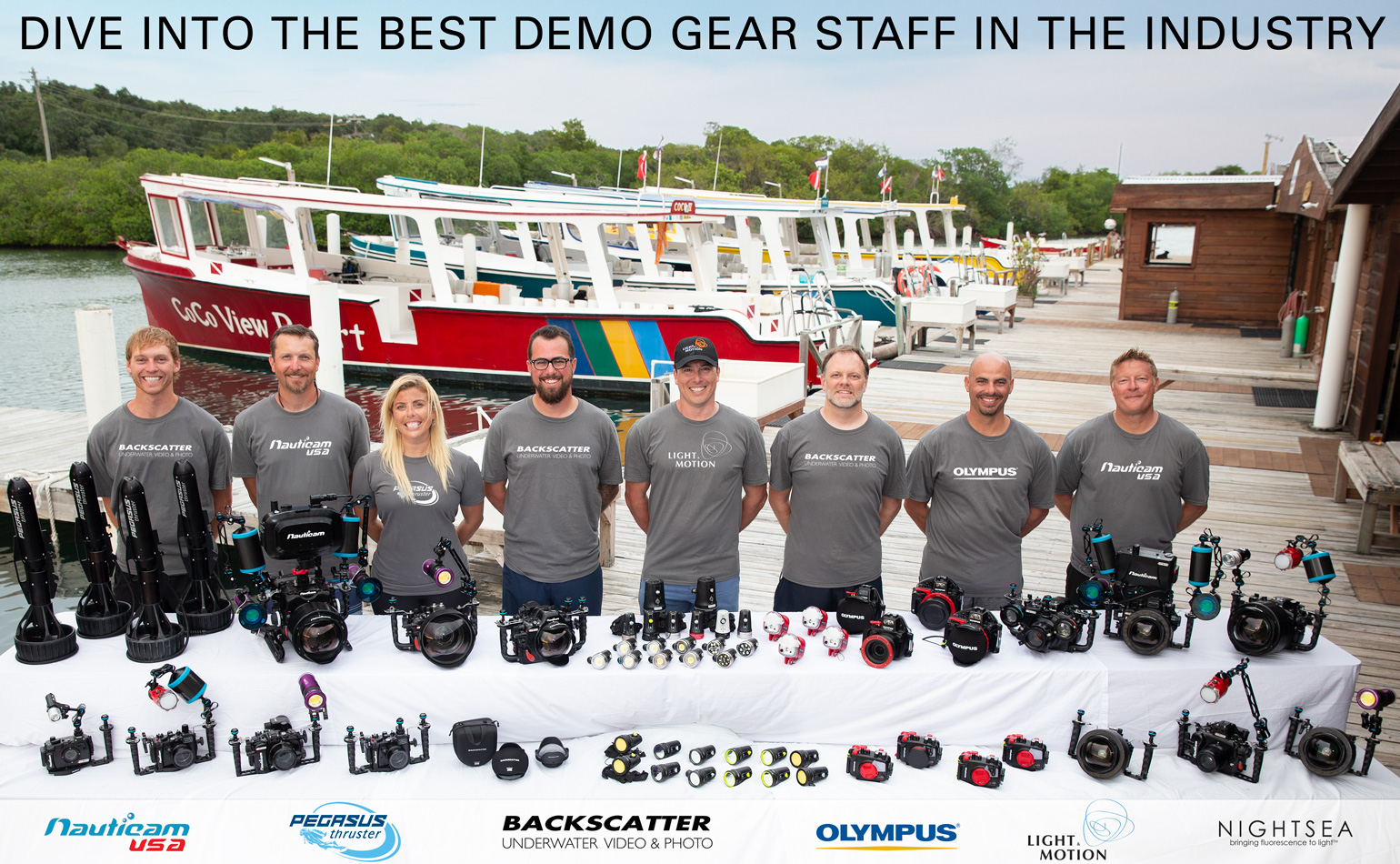 VIEW OUR MANUFACTURER'S 2018 PRODUCT HIGHLIGHT VIDEOS!




LEARN WHILE HAVING FUN AT THE DIGITAL SHOOTOUT
The Digital Shootout has Warm-Up Week and Shootout Week. Warm-Up Week has a more casual, laid-back vibe with informal mini seminars on shooting tips taught by Jim Decker, and Lightroom editing tips taught by Erin Quigley. During Shootout Week, professionally crafted seminars occur every afternoon with this year's curriculum including, How to Get the Shot and Where to Get it in Roatan (Coco View photo pro Tim Blanton, Jim Decker, Erin Quigley), Photo and Video Techniques (Berkley White), Lightroom Essentials (Erin Quigley), Video Workflow and Editing (Steffan Schulz), Tell a Story with Video (Cristian Dimitrius), Creative Lighting (Hergen Spalink) and Techniques for Shooting Splits (Berkley White). But the learning doesn't stop there. Nightly slide shows and critiques are great for getting specific feedback from the pros on participant submitted images. There's also one-on-one and small group learning for photo and video editing in the "Creative Cave" (this year's Creative Cave location was in the restaurant, should be named, Creative Canteen Corner). And even more learning takes place on the boats, during meals and whilst socializing at the bar!
By absorbing what was taught in the classroom and tips provided at the slideshow and everywhere else, then applying that knowledge the following day is THE recipe for the fast-track to improved underwater imaging in a fun-filled environment with like-minded folks.



© | | mm | ISO | sec at f /




© | | mm | ISO | sec at f /




© | | mm | ISO | sec at f /




© | | mm | ISO | sec at f /




© | | mm | ISO | sec at f /




© | | mm | ISO | sec at f /




© | | mm | ISO | sec at f /

LIGHTROOM BEFORE & AFTER
Every digital image benefits from post-production. Sometimes all it takes to maximize the potential of an image is a tiny nudge – sometimes it takes more of a shove to massage color, tone, and composition into line.  For underwater still shooters, who perpetually struggle with common enemies like backscatter and ambient light color casts, Lightroom and Photoshop are the superheroes of the digital realm, leaping to the rescue at the touch of a slider.
At the Shootout, we aim to cover all the bases of post-production. In the seminars, we throw as much information at the attendees as we possibly can, sharing not just the basics, but tons of pro tips and tricks derived from years of experience – all specific to underwater imagery. In addition to the seminars, the Creative Cave is a fantastic resource for those wanting more focused one-on-one help.  People return to the Shootout year after year not just because it's the most fun learning event imaginable, but also because they can't possibly absorb the vast amount of instruction, experience, and professional guidance on offer.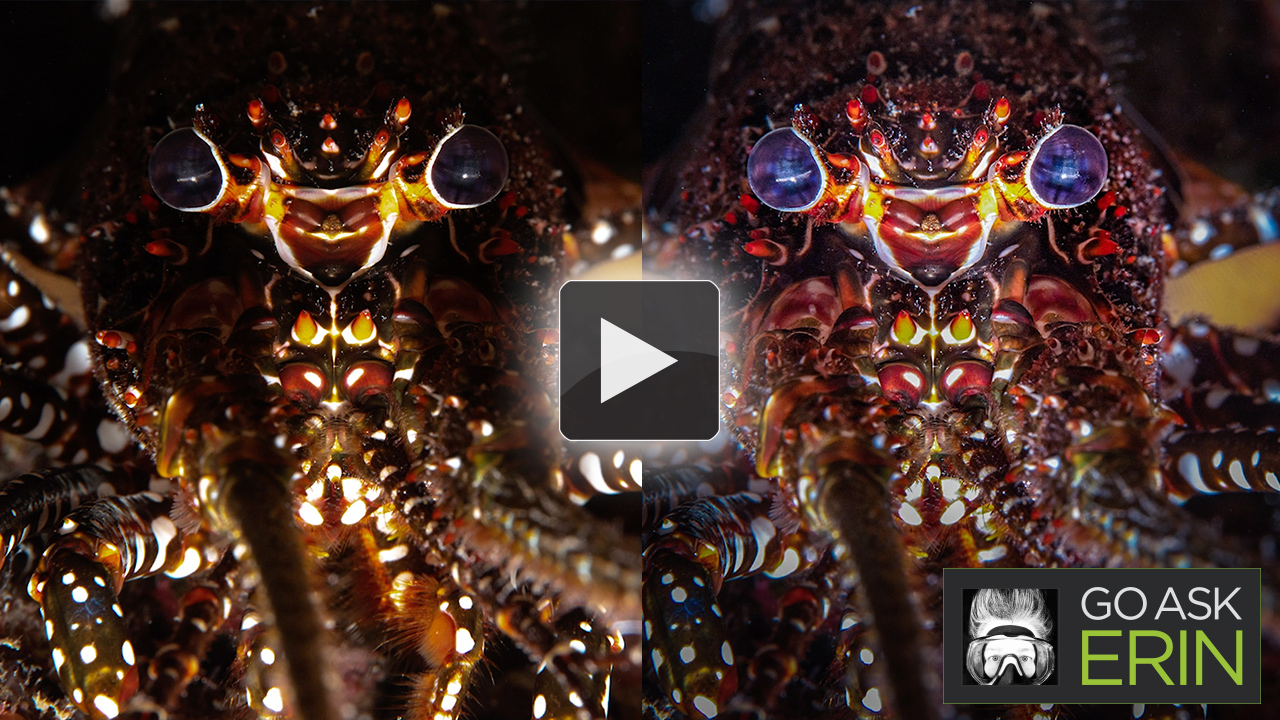 Backscatter Sponsors Our World Underwater Scholar to Join Shootout

YANN HERRERA
2018 North American Rolex Scholar
Our World-Underwater Scholarship Society®

I had no idea what to expect for the Digital Shootout when I found out I would be attending - and I'm glad I didn't, as the surprise set the tone for an awesome 10-day trip packed with diving, learning, more diving and, more learning! And when I found out I would be surrounded by a top-notch team of tech-savvy photographers and videographers I knew I was in for a treat!
When I got to the tropical island of Roatán, this year's Shootout hub, I arrived with a suitcase that I had been dragging around with me for the past month-and-a-half full of camera equipment. I had hardly been through the bits and pieces of the gear as I was scared to death I would lose something or even worse - break something while trying to set the equipment together. But the team at the Shootout knew exactly where I was and in no time took me by the hand and set me up for my first photography dive ever.
Bouncing around from teachers to participants and soaking up tips here and there, I finally got a feel for how to set up my rig, where to place my strobes, what settings work well with what scenes, and how to process my images or clips afterwards. As much as the Shootout is pitched as a 'diving photography vacation', for me it felt like a bootcamp. There were so many events and lectures that I did not want to miss out on anything. My schedule ended up looking something like this: breakfast, two dives, download and recharge, lunch, lecture, dive, download and recharge, dive, dinner, nightly slideshows, sort through and edit, sleep. Pretty cool huh? But the best part is that the event is tailored to YOU. No one is forcing you to do anything, so you can take your time, learn at your pace and reach out whenever you want help. For me, however, it was all about spending as much time as I could with the Shootout staff as everyday I found myself learning something different.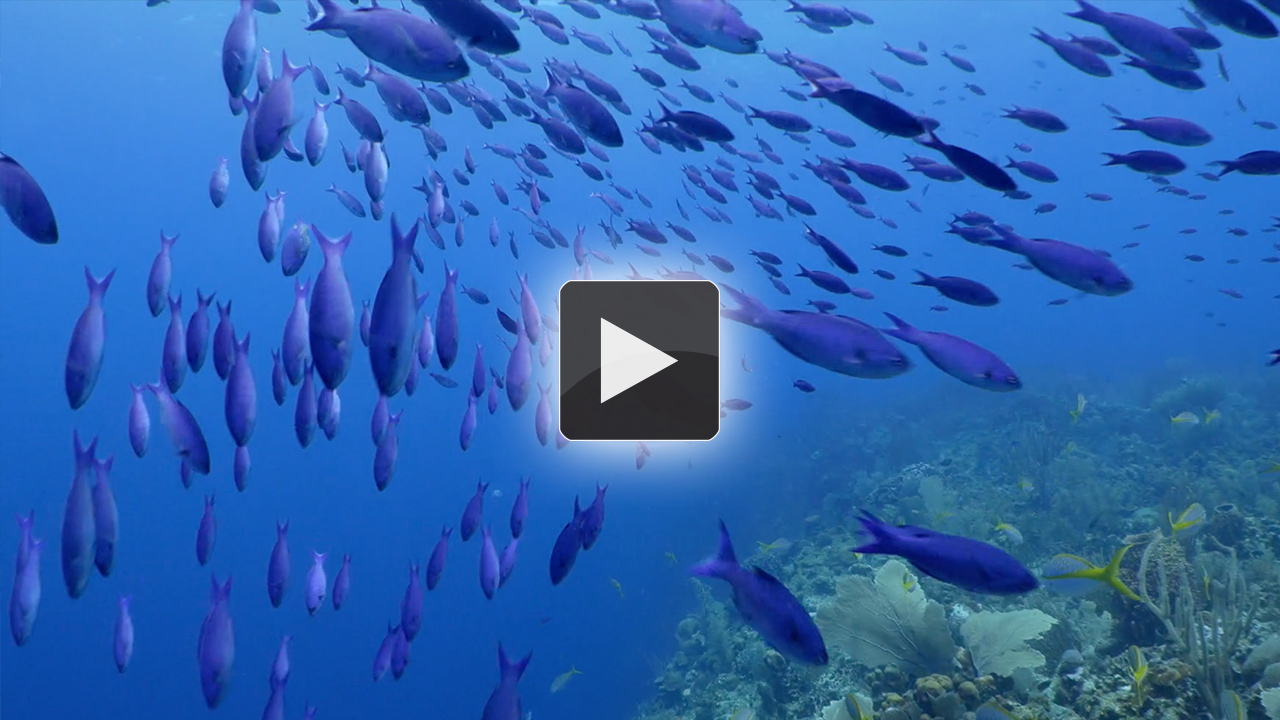 To add to the experience, staff members bring along all sorts of equipment that you can borrow and test out. It's a great way to get acquainted with gear from the very experts, who will give you personalized recommendations for the style and type of work that you want to do.
Did I mention there are prizes? Yes - the Shootout crew definitely knows how to keep their participants amazed and happy. Towards the end of the event there is a friendly competition and participants get rewarded with all sorts of goodies. And the best part is that the audience gets to see a selection of everyone's submissions, so it's really neat to watch people get excited about others' work.
I am very grateful to the people at the Shootout, both staff and participants, for making my time here so rewarding. The learning environment that gets created in such a short period of time is spectacular and the opportunities to learn are just beyond incredible. Special thanks to the people at Backscatter, Nauticam, Reef Photo & Video and Light and Motion for making all of this even possible. I can now confidently say that I know my gear, understand my rig and am ready to shoot!
BOSTON SEA ROVERS AT THE SHOOTOUT





JAKE STOUT
2018 Boston Sea Rovers Intern



As the thirteenth intern for the Boston Sea Rovers, I get the chance to travel around the country and world diving. As part of the internship, different Sea Rovers will host me on their projects and I have the opportunity to work with many world class professionals in all fields of diving. For my internship, I wanted to focus on underwater photography because one day I would like to work for National Geographic as a photographer. Backscatter Photo and Video graciously donated a Canon 5D Mark iii and Aquatica housing to me for the summer.
The first place that I got to travel to was Roatan, Honduras with Berkley White, a legend in the underwater photo world and owner and founder of Backscatter, for The Digital Shootout (DSO). The DSO is a week-long competition with professionals to help you make, critique and edit your shots.
This was the first chance that I had to use my new camera, and I was super excited. On the first boat dive I shot macro. As I fumbled around with the strobes and settings I got maybe one ok image. The next day I decided to try my luck with wide. I was signed up for the shark dive, my very first shark dive, and I wanted to make it really special. I went to some of the camera crew asking to set up a rear curtain shutter sync so that I could get panning motion blur shots of the sharks to really demonstrate their movement. I was told it was a gutsy move on my first shark dive but I just wanted to get a shot that no one else was gonna take. We got to the site and went down the mooring line swaying back and forth in the current, then landed 70 feet down on a bed of sand in front of a short reef wall. The sharks anticipating the chum to come started circling around, I started firing away. I would wait till they came in close to me fire a few shots the repeat. I ended up with an amazing shot that I never thought I would have been able to take!
So from my success with shooting wide, I decided to shoot wide the rest of the week. I also made the decision to only do shore dives. I like to think I made that decision because on the shore dives I could spend more time to myself and not worry about the boat, but really it's because I kept getting sea sick on the boats. Fortunately for me, Coco View Wall, Newman's Wall and Prince Albert's Wreck all were great subjects a short swim from the Coco View resort. Every day I spent on the reef, I got to know it better and better and have more and more interactions with amazing marine life. I knew where the green moray liked to hang out curled around a rock 45 feet down in between where two reef walls met. One dive I sat with the moray for 40 minutes. Less than a foot from my face, its back curving, teeth glared at me, a fearsome looking creature that for some reason to me just seemed as curious of me as I was of it. Some of my best photos came from just sitting around the reef with that moray and any other animal that let me get close.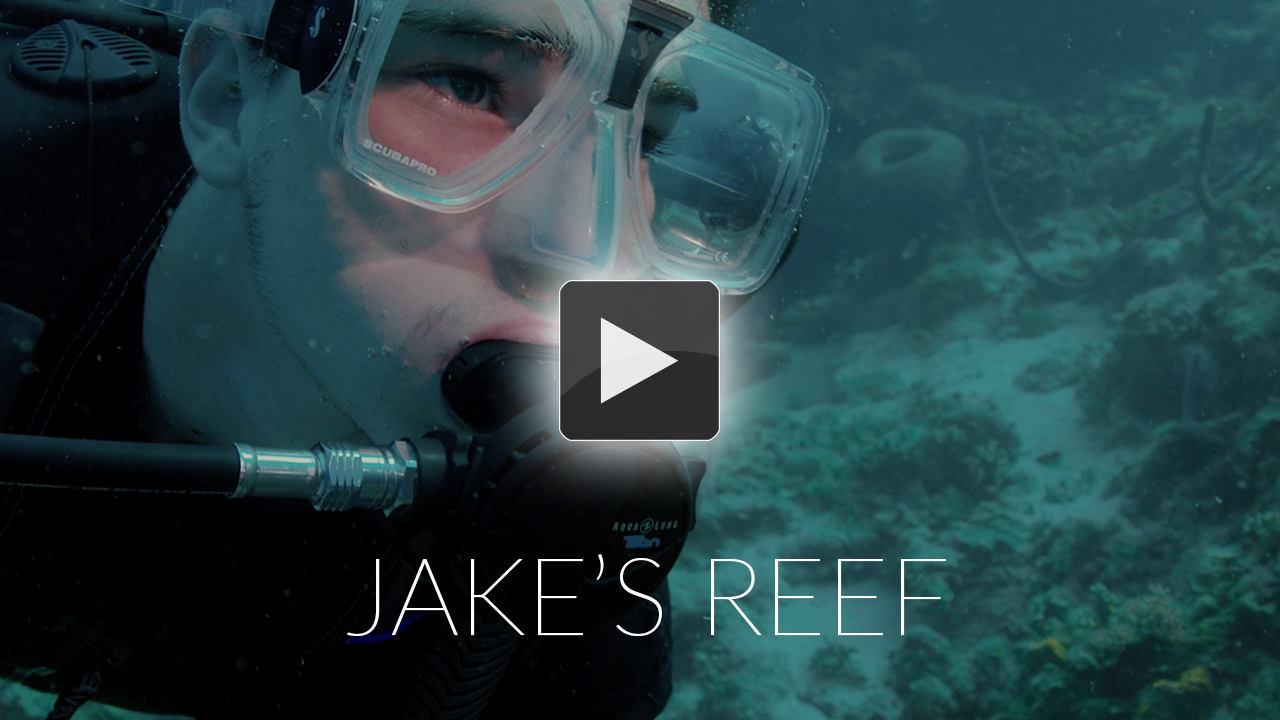 By the end of the week, I had amounted a small portfolio of images that I never would have dreamt about taking had it not been for the help the entire camera crew. I ended up winning an honorable mention and first place in the shark photo category, on my first shark dive, and a third place in wide angle for a photo of a barracuda under a dock. My week at the DSO was one of the best weeks of my life! I learned so much about underwater photography and made friends that I will forever have. Thanks to Berkeley White and the Backscatter Photo and Video crew for hosting me!

JIMMY D AND THE COCO VIEW PLAYERS
By day, he's the mild-mannered CEO of Backscatter Underwater Video & Photo, but at night at the Digital Shootout, he transforms into Jimmy D, rock star!