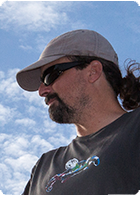 Berkley White:
Somehow the Backscatter crew managed to get a mountain of demo gear successfully through airports and loaded into our new home at Divi. This morning all staff were on deck to help participants assemble their equipment and chase down electronic problems. Which extension ring goes with this lens? What the heck is this diopter thingy? My strobes won't fire! By late morning we had everyone ready for diving.

At our evening welcome party, we shared inspiring images from previous Shootouts in Bonaire and I introduced the fantastic Shootout staff we've assembled this year. Unlike traditional photo pros, our staff is connected to gear sales and manufacturing and have years of experience trouble shooting at their respective companies. I think it makes a difference as they really have a vested interest in the success of each participant regardless of the brand of equipment they shoot. What an honor to work with such a great team of professionals!

Sterling Zumbrunn: I have been looking forward to the Digital Shootout all year, and it's tremendously exciting to be here. Although I've been traveling with Berkley and Dan for nearly a decade, this is both my first trip to Bonaire and my first Digital Shootout. I'm truly honored to be part of this year's staff. I'm excited about working with all of the participants this week, and I can already sense the great spirit of learning and sharing that the group has. After three plane flights, I'm glad to be settled in at the Divi Flamingo Beach Resort which is a gorgeous facility.
For the trip down, I actually traveled pretty light. I didn't bring any of my own housings which felt incredibly strange when checking in at the airport. I'll be using the demo gear all week with the purpose of putting some recent cameras through their paces for writing upcoming articles on the Backscatter Website. I'm really grateful to Jim, Russ, Jean, and Chris for doing such an outstanding packing job and getting all of the gear down here. The number of camera systems we have available to lend out to participants is positively mind blowing.
This week I'm primarily going to focus on mirrorless systems, which are an exciting new class of cameras that have many of the features of an SLR, but are much more compact. In this age of escalating luggage fees, having an entire underwater rig that will fit into a carry on bag is pretty attractive - probably even more so for the few unfortunate folks whose bags have yet to reach Bonaire.
Today I dove on the house reef with the Sony NEX-5, a camera that I've been eager to try out. The camera is tiny, yet it has a large sensor similar to what you would find in an SLR. The 18-55 kit lens is extremely versatile, allowing for shooting wide angle scenics all the way down to extreme macro with the addition of an INON close-up lens. I was stunned with the image quality from such a tiny package. The Nauticam NA-NEX5 housing is extremely sleek, and I found the ergonomics to be well thought out. I enjoyed getting to know this rig, and plan to use it again tomorrow.
It's great to see everyone getting up to speed on using their gear, and the images that participants have already taken are quite impressive. It's going to be a fantastic week.








Jennifer Penner: It's officially my third anniversary as an underwater shooter. My addiction started here in Bonaire at the 2008 Digital Shootout, when I protested to my husband (then boyfriend) that , "I really don't think I'll like underwater photography... I just want to dive". No longer considered a novice, and with a few skills under my belt, I find that my current challenge is putting those fundamentals into practice on each dive. There are good days and definitely some not-so-good days when technique seems to just go by the wayside. I keep reminding myself, "practice, practice, practice." But the only way to practice those underwater photography skills is to dive and dive often, so... LET'S GO DIVING!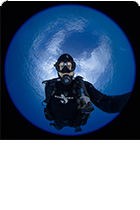 Jim Decker: It's arrival day and it's great to be back at the Divi Flamingo. So many familiar faces from Shootouts past and a lot more new ones this year too. It's the 10th anniversary this year and it's the biggest Shootout yet. We have a lot of extra staff on board, and the demo gear department is larger than ever. Just check out all the gear in the photo. It's all available for the guests to shoot. If you want to see if that camera you had in mind is really all it's cracked up to be, or if adding a strobe would make a difference, this is the place to do it. And there's expert staff to make sure you get up to speed on it fast. Tomorrow is the first official dive day, even though most of the staff have been here for a few days. I'll be testing a few different camera systems this week from the demo department and will post comments and results.

Gear Tested Today
I hooked up with Marissa from Pegasus Thruster Underwater Scooters today to try out their product. The Thruster is a tank mounted underwater scooter. It is just about the coolest thing since sliced bread! It only weighs 13 lbs., and is 5 lbs. negative, so you can take that weight off your belt. The result is something that is barely noticed on your tank until you hit the happy button that takes you forward. It's great for the photographer because you can zip around a reef or wreck quickly while consuming less air, allowing you to have more time to take pictures. Long swims from shore? No problem. On a shipwreck, but too many divers in your shot? Zip around to the other side of the wreck to avoid them. These scooters are available all week for demo. Did I already mention they were cool?




Charlie Mazel & Ross Kniffin:
It's always a pleasure to be on Bonaire! A great place to dive in general, and a super place for night dives in particular. Nighttime is NIGHTSEA's time to explore, and we are really looking forward to introducing fluorescence to a new group of underwater photographers who are eager to learn new things and enhance their skills. Calm sea conditions, ready access to a wide range of depths and variety of marine life and easy navigation, make Bonaire an ideal place for night work. Add to that the dive pier at the Divi Flamingo with an ample supply of full tanks right next to the gear lockers and a set of stairs right into the water and you've got no excuse not to pop in for a night dive on the excellent house reef.

In preparation for the week, Ross Kniffin and I arrived ahead of the Shootout participants to scout out the underwater nightlife. You don't even need to step off the dive – just poke your head in the water and turn on the NIGHTSEA light and you'll see plenty of fluorescence. A short swim around and under the pier reveals an array of corals, anemones, fireworms, lizardfish, and more glowing brightly. This is going to be great for getting photogs up to speed quickly on fluorescence photography so they can then take off to explore and shoot for themselves. We're pleased to be sponsoring a new Fluorescence category in the Shootout photo/video contest, with NIGHTSEA lights and filters as prizes, and we're looking forward to seeing the dazzling images!

We have demo gear here for divers to try out, but a couple of the Shootout participants purchased NIGHTSEA lights and filters not long before the trip and are already bringing in some great fluorescence shots. Below are some shots by Jeff Honda of California.





Dan Baldocchi:
Wow, I can hardly believe it! This is the 10th annual Digital Shootout! Back in 2001, Berkley White and I were just starting to explore the world of digital photography and thought it would be fun to put on a workshop for underwater (film) photographers and show them all the great things digital cameras had to offer. Armed with our 3.3 megapixel Olympus C-3030 cameras in Light & Motion Tetra housings, we set off for Indonesia to take some of the first underwater digital photos. We had so much fun and took such great images that we decided to do it again, and again, and again. Over the years we've been to Fiji, Palau, Little Cayman, and of course Bonaire many times. In fact, 6 of the 10 Shootouts have been here in Bonaire, we really love it here.

It has been my pleasure to organize this event over the years and I'm really proud of the program we have put together for you. Nowhere else in the world can you spend a week learning underwater digital photography with as many photo pros, computer experts, manufacturer's reps, technical support staff, and fellow shooters that love taking pictures as much as you do. Oh yeah, and then there's a photo contest at the end of the week with over $45,000 worth of prizes. Can you believe it?! Thank you all for coming and being part of this amazing group. I hope you enjoy it as much as we do.
Mary Lynn Price:
It is so wonderful to be back in beautiful Bonaire! Visiting with old friends from previous Shootouts and meeting so many new ones is probably my favorite part of the whole experience. Of course, I have to say that it's incredibly cool to get to play with so many cool digital toys in one place - it's just fantastic to be back!
Erin Quigley:
I always love the first day of the Digital Shootout. There's a cool sense of anticipation as the majority of participants arrive, and official DSO T-shirts, handbooks, and jump drives are distributed. People can't wait to get started, and even those who arrived bleary-eyed from an overnight flight are eager to get the dive briefing and get in the water. Lost luggage be damned! Let's get in the water!

This is the first in a series of video tutorials for Lightroom and Photoshop. This video, Image Prep, will show you step-by-step how to export and resize your images.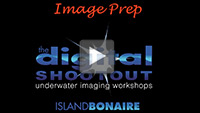 Jean Bruneau:

Just waltzed in after a gruelling flight that got cancelled, then delayed, then connected to a yet another delayed flight. Hungry and tired but... smiling from ear to ear! Right off the bat in the Newark airport, I start to see familiar faces all heading down to the yearly event. After a very welcomed nap, I set up to prep up the demo gear. Boy, oh boy is this year's edition ever loaded with equipment! Four large tables worth of photography and video gear for everyone to play with. This is going to be a busy week for us on the staff!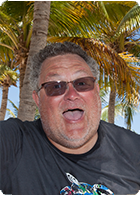 Ed Meyers:
Great to be back here in Bonaire. Taking the first day to wander around a bit and reminisce about the last time here…..which was 1990..Yikes! ..21 years ago. Looks like a lot has changed here, but it still has the same feel to it. Can't wait to get into the water and blow some bubbles. Quite amazed that our printer arrived, upside down, and no ink running out the case! Gee, I hate it when I forget to remove the ink cartridges before travel!
Too bad Chuckie couldn't join us this trip…I would imagine that new knees would be a bit of a drag??


Chris Parsons: When the Embraer Bandeirante 15 seater lands in Bonaire, it doesn't need a jetway to deplane passengers. It doesn't even need a set of boarding stairs - it has it's own built into the door of the aircraft. There's nothing quite like getting off of an airplane on a small island, when that first breath of island air and warmth tells you this is a place you want to be. After my nearly missed connection in Curaçao, I knew my bags wouldn't be onboard, and they weren't. Two hundred pounds of demo gear may just require a bit larger plane for the hop over to Bonaire. Indeed, Insel Air came through the next day, delivering all of the Nauticam gear that I had entrusted them with in Miami.

I'm honored to be here at my first Digital Shootout event. Everyone here has been gracious and kind and there is a real sense of helping each other for a common goal - to make some beautiful images. Divi Flamingo seems like a great spot to host this event, and I can't wait to get started!

With all of my systems put together and batteries charging, yesterday I got a chance to get into the water. For my first dive I took my trusty Canon 7D with me as it was the only thing I had fully charged and ready to go. I shot the Tokina 10-17 with a Zen Underwater DP-100. For my second dive, I took the new Panasonic GH2 in a pre-production housing. I'm a big fan of this camera and it did not disappoint. There's a lot of interest in this camera and several others that I've brought so I might not get a chance to dive with it again until the end of the week. For this dive I shot the Panasonic/Leica 45mm macro, and found it to be an excellent macro lens. The working distance seems pretty similar the the Canon EFS 60mm macro on the 7D. Focus was quick though it hunted a bit when I didn't use my focus light. But, with all of the Light&Motion Solas around here, there's no excuse not to run a focus light. The images I got were very sharp and GH2 continues to be my favorite small camera by a long margin.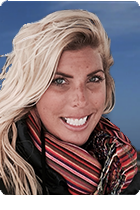 Marissa Wiganowske: The official arrival day for those partaking in The Digital Shootout, hoping that their equipment did in fact arrive with them. The same can't be said for me, when you have multiple gear manufacturers on a small plane it's pretty much a guarantee all the equipment could use it's own plane. It's my first time with the Shootout, but it's a fantastic feeling to be back in Bonaire, a place that was previously a home to me is going to produce remarkable images for those behind the lens.

Of course there are a few individuals who just can't resist arriving and settling in early. With that, we straight charged for a shore dive out to the wreck of the Hilma Hooker. This was the first time any staff was going to give the Pegasus Thruster a go. They may look stoked about it, but they had no idea what they were in for. Ron with his Red One camera and Gates housing in tow was the first one out to the mooring, Jim was the first one to the bow setting up for shots, and with everyone trying to keep up with the speed and effortlessness of the Pegasus Thruster, it was then they all realized flying underwater was going to be in high demand this week.