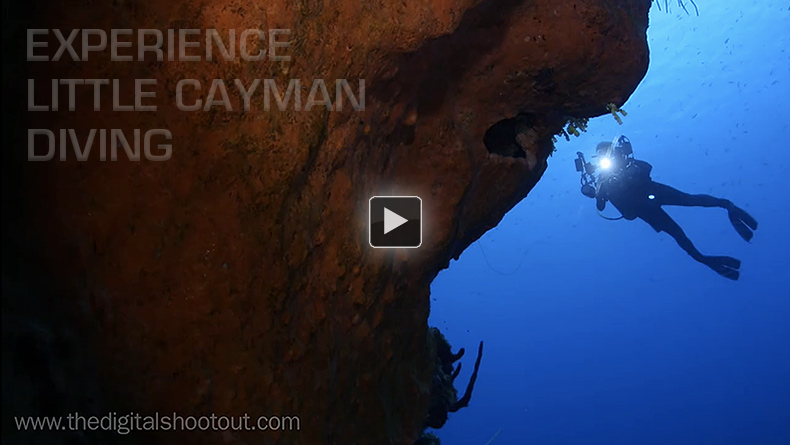 SHOOTOUT LIFE
The Digital Shootout, in its 11th year, is the world's greatest underwater imaging learning event. It's also the ultimate working vacation for the underwater photographer. This year's Shootout was held in Little Cayman at the Little Cayman Beach Resort, where our group of 80 was spoiled by the luxurious accommodations, mouth-watering meals (I think most of us went home a few pounds heavier after indulging in the delicious savories and sweets), spectacular diving in the Bloody Bay and Jackson Bight Marine Parks and staff that instantly knew your name and always wore a smile. While the week's schedule is high-octane filled with diving, seminars and slideshows, rest and refueling with a favorite libation was frequently happening at the poolside bar where participants gathered to exchange thoughts and ideas about the day.
Our Friendly Competition
Learning and competition go hand in hand… well, at The Digital Shootout they do! After a week of diving and learning to improve your image taking and image making, there is a friendly, optional contest where the best photos and video captured during the week are awarded some mighty fine prizes. Everyone deserves to be congratulated for a job well done! It's a huge accomplishment to take your diving and shooting to the next level in a week's time, which is what the Shootout is all about.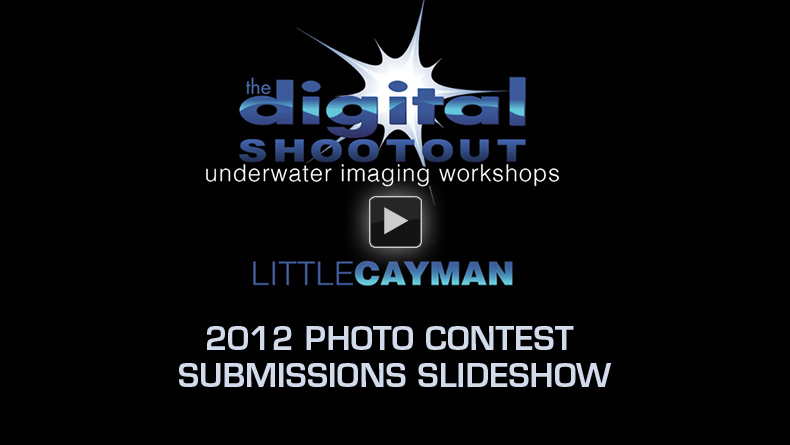 In the Classroom
Sitting in a classroom while on vacation in a tropical paradise isn't the expected scenario for most, but for the 60 participants of this year's Digital Shootout, it was nearly standing room only in the packed classroom. Berkley White, renowned underwater photographer and owner of Backscatter Underwater Video & Photo in Monterey CA, shared his photo and video techniques and tips. Being whisked along the learning curve and getting better images day by day, the attendees also gained a greater understanding of organizing and post processing their photos by using Lightroom and Photoshop - some even arrived on Little Cayman a few days before the official start of the event to participate in focused, small-group, Lightroom workshops taught by Erin Quigley of Go Ask Erin fame.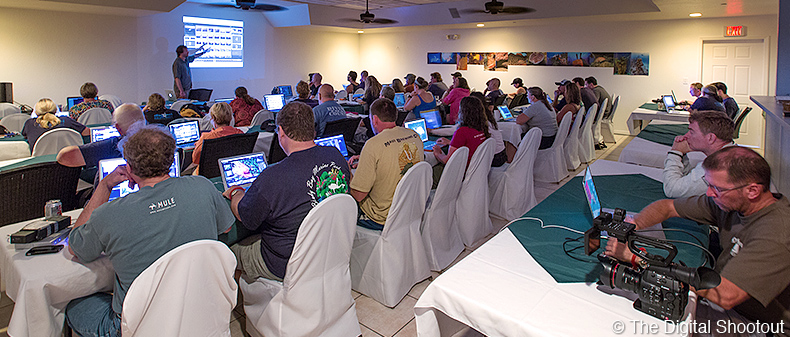 Everyone's favorite video editing instructor, Mary Lynn Price, had a few words to add about this year's event:

This year's Digital Shootout was spectacular for underwater video! We had an amazing array of digital imaging devices used for underwater video and still images this year--everything from HD camcorder video, to gorgeous RED EPIC footage, to the stunning video of the new Canon 5DMIII DSLR, to some amazing GoPro footage shot with great lighting that surprised many of us! Video editors this year were working with video footage, time lapse sequences, and photos to create a truly diverse range of video and multimedia productions shown at the nightly gatherings and entered into the final video competition. For video editing systems, the adage this year was, "The best editing system is the one you use!" Video editors used a total of five different video editing programs on both Mac and PC laptops. I was particularly excited to use Final Cut Pro X for a brief live editing demo to show just how quickly and easily that program allows assembly of short music videos using the skimming range select function and "append to Storyline" command. Given the gorgeous quality of underwater imaging this year and the wonderful video productions Shootout participants created with so many different systems over the course of the week, I can't wait to see where underwater imaging and video editing will go at next year's Digital Shootout!

We had a record number of videos entered into the week-ending, friendly competition! Enjoy the scenic underwater views from our participants!

Victories in Video Editing