World Class Diving




Home to the world's second largest barrier reef, Roatan, Honduras is justifiably one of the top scuba diving and snorkeling destinations on earth. CoCo View Resort has the reputation for being the easiest place to dive on the island. Everything we do at the resort is done with the intention of making your dives safe and comfortable.

While at the Digital Shootout in Roatan, you'll enjoy unlimited, 24 hour access to walk in, walk out shore diving and snorkeling along the reef in CocoView's "Front Yard," literally steps from the resort. Additionaly, we'll have daily boat diving to all of Roatan's great diving sites. You're likely to have photographic opportunities with sea turtles, moray eels, dolphins, massive coral walls with spectacular sea sponges, and wrecks.
Cabanas & Bungalows On Roatan's Waterfront

Imagine going to sleep with sound of the ocean gently lapping outside your room, rocking you to sleep with its hypnotic, caressing cadence. Imagine waking up to the same sound and a beautiful sunrise glistening in the water's reflection.
Our intimate Roatan dive resort has 29 guest rooms, and all of our accommodations are either situated on the water's edge or directly over the water. You can't get closer to the ocean than this - at least while you're sleeping!
Every room is air-conditioned for your comfort, and is equipped with in-room coffee pot, mini-fridges, lockable security box, hammock and maid service. With a location that can't be beat, beautiful ocean views come standard.
After an amazing day of diving or other activities, return to our dive resort to relax on your own oceanfront porch, balcony, or deck. Replay your day's experiences, soak up the sun and some vitamin D, and let the swaying of your hammock match the rhythm of the waves.
Types of Accommodations:
We offer three styles of accommodation for you to choose from at CoCo View Resort, each with its own charm:
Bungalows: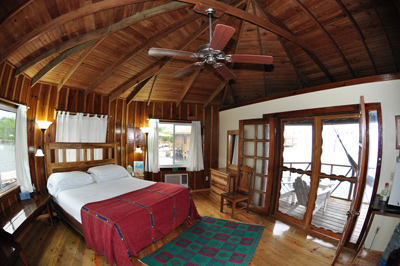 4 Bungalows are located in two over-the water duplexes along a wooden walkway between the Clubhouse and Hawksbill Cay. They are considered by many guests to be the most private and romantic of our guest rooms. Spacious rooms and large decks insure you will rest and relax in comfort. King and double/queen bed configuration available.


Cabanas: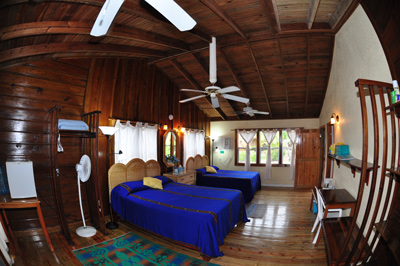 12 Cabanas are built directly over the water. These spacious rooms are located in three separate buildings. Enjoy the sunrise/sunset from your private ocean front deck. Cabanas are located east of the clubhouse along a wooden walkway. Queen/Double bed configuration available.


Oceanfront Accommodation:
12 Oceanfront rooms are built at the water's edge, 8 upstairs and 4 down. The ocean laps gently only a few feet from your door. These rooms are located conveniently near the clubhouse and dock. Large porches and decks insure you have a front row seat to peaceful ocean views. King or queen/double bed configurations available. (Please note: rooms 22 & 23 have a limited view.)




The Mango Suite:
An ocean-front, ground floor, 2 bedroom, 2 bathroom suite that offers 1 Queen size bed in the front bedroom and 2 twins that can be converted to a King size bed in the back room. Perfect accommodations for a group of 4.




CoCo Casa:
Air-conditioned, 2 bedrooms/2 baths Ocean Front home, the first house past the Cabanas; it is an easy walk or a quick bike ride to the resort. Perfect for families and groups of 3 or 4.


Prefer to be close to a specific location at the resort? Like privacy?
Take a look at the Map below to get the scoop on where each of the accomodations are located: